Chicagoland is considered by tourists, locals, and professional critiques to be a city that knows how to eat! From pizza to pasta, brats to burgers, tacos to Thai food, there is absolutely no shortage of options. It's time to recognize the best Chicago Northwest sandwiches in honor of National Sandwich Day. 
Located in the heart of Elk Grove Village, All Ways Catering and Deli is a local neighborhood deli that has been in business for over 20 years. They specialize in fresh deli sandwiches, homemade soups, and salads and offer lovely daily specials. Catering is in their name, so of course, they provide exceptional catering service to both personal and corporate events. Expect HUGE portions and a satisfied stomach. Follow their FB page for daily soups and specials.
Recommendation: BLT (Friday's Only)
Is a hot dog a sandwich? We think so! Big Sammy's Hot Dogs is a pure Chicago-style sandwich shop. Serving everything from Italian Beef Sandwiches to Chicken, Ribs, and Gyros, you just can't beat the taste or the servings. Big Sammy proudly serves up great food in generous portions. Whether you want a Chicago-style hot dog or slabs of spicy-sweet ribs that fall off the bone and melt in your mouth, Big Sammy's Hot Dogs is the place to go! You'll never be disappointed, and you'll always get plenty to eat.
Recommendation: 2 Hot Dog Special with Cheese Fries
Again, is a hot dog a sandwich?? Seriously we want to know! Firehouse Dogs makes a very compelling argument. Their website is literally "bestdogsintown.com," and while we are sure that it is up for debate, there is no disputing that they are among the best places to get a hot dog in the Chicago area. Firehouse Dogs was awarded Best Dogs in the State by Travel and Leisure Magazine in 2018, and their reviews speak for themselves. 
Recommendation: Chicago Dog with hand-cut fries
Fratellos II, located in Rolling Meadows, proudly serves American Cuisine with a mix of Greek and Italian specialty dishes. Their extensive menu consists of char-grilled burgers, 100% Vienna beef hot dogs, Greek gyros, sub sandwiches, and homemade award-winning Italian beef. Combining quality food with excellent service is the reason Fratellos 2 has received multiple Silver Platter awards. They have happily served the Rolling Meadows community and neighboring communities for over 20 years.
Recommendation: Italian Beef
Frato's Culinary Kitchen believes that creating a great restaurant comes down to both the people and the product. Frato's is a community culinary school restaurant (CSR) and serves as a training ground for young, passionate culinary students. Their casual-fun menu features Chicago classics like bacon burgers, handmade pizza, club sandwiches, and all-beef hot dogs. Made up of 80% culinary students and 20% culinary leaders, you can count on Frato's to prep your food from scratch, properly season, and use traditional cooking methods. Support the culinary arts!
Recommendation: Bacon Mac-N-Cheese Burger with Mozzarella Sticks
Porky's is a neighborhood BBQ and Catering restaurant located in Arlington Heights that brings delicious cooking from their kitchen to every table or event. They thoughtfully source their ingredients from local farmers to create signature entrées and seasonally-inspired desserts, sauces, and sides. Their ribs are so tender they fall off the bone, and their brisket will melt in your mouth. Expect no unnecessary frills from Porky's; instead count on consistent traditional bbq smoked and grilled in house.
Recommendation: Pastrami Sandwich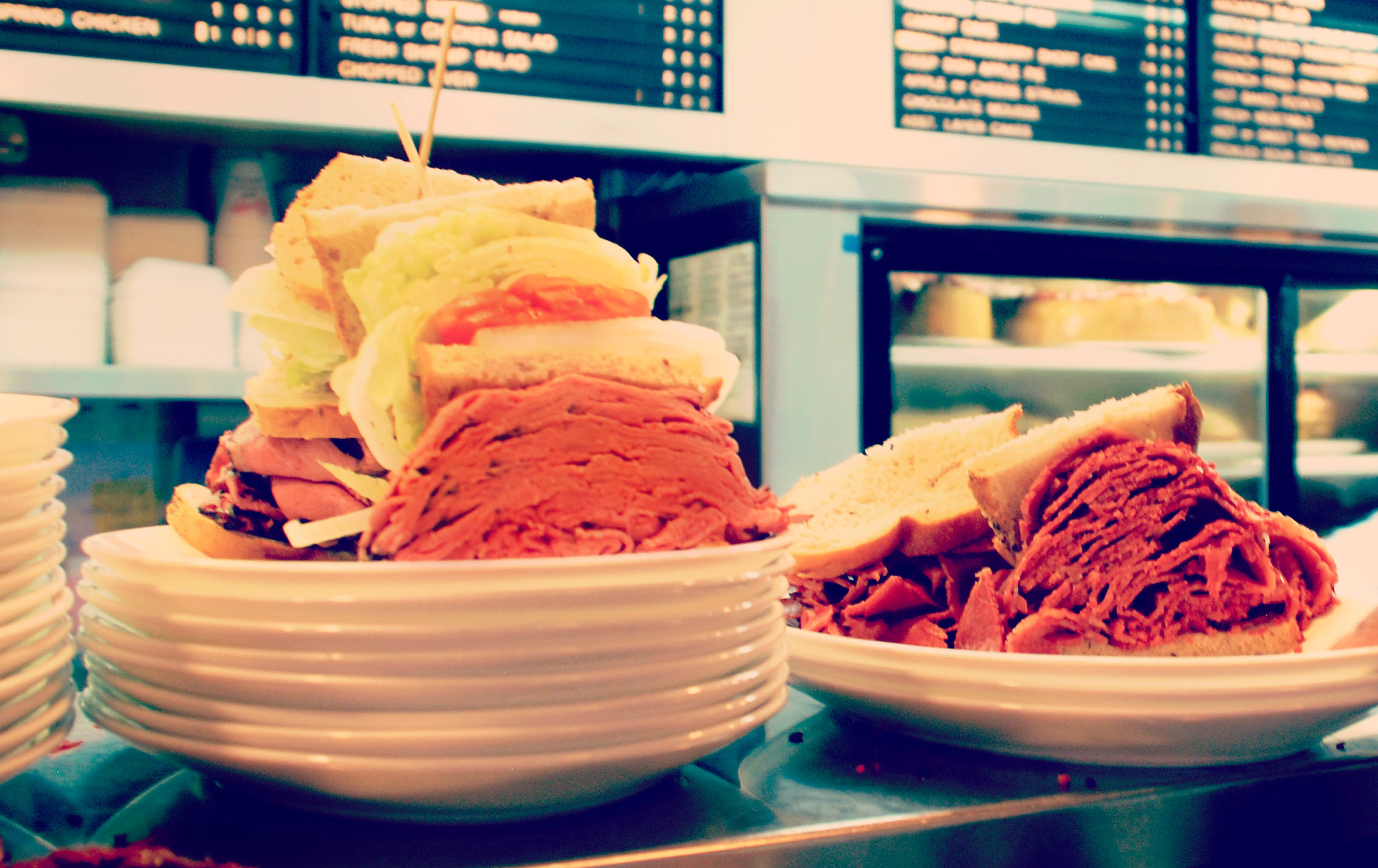 Shorty's is a blast from the past and a celebration of the classic casual American drive-in eatery. Their extensive menu leaves no burger unflipped and no fry undipped. Don't drive in if you are looking for a salad because this is a meat lover's paradise, serving burgers, hot dogs, pulled pork, and more. Expect fun and fast service, and enjoy your food in the privacy of your car. Make sure to ask for extra napkins!
Recommendation: Pulled Pork Burger
We are infinitely proud of the big fat sandwiches our region has to offer! But don't stop at the end of this list; there are so many more excellent dining options in the Chicago Northwest suburbs; please visit our Chicago Strong page for a list of available restaurants with both carry-out and curbside pickup options.
Needing more food-spiration? Check out all our inspirational blog posts now! Tag us in your social media posts (#ChicagoNW - #ChicagoNWStrong - #ChicagoNWEats) and let us know your favorite Chicago Northwest restaurants. You might see them featured in the next food-spiration blog.