Sports for All
5 Reasons Chicago Northwest Is a Win for Tournament Planners and Attendees Alike
Long before you order medals and trophies for the winners of your taekwondo tournament or begin soliciting sponsors for your basketball championship, you need to find a venue. While many sports managers and event planners are drawn to big cities, some of the best—and most affordable—venues are actually located in smaller, satellite cities.
Take Chicago Northwest. The area has hosted several elite boat competitions, including the GWN Dragon Boat Tournament on Lake Arlington. While somewhat out of the ordinary, this international event continues to grow in popularity, largely because of everything that Chicago Northwest has to offer—both on and off the water. Thanks to its location, countless lodging and dining options, and an upscale convention center, Chicago Northwest reigns as the premier destination for unique sports events including:
Martial Arts Tournaments

Wrestling Matches

Basketball Games
Table tennis tournaments

Basketball games

Triathlons
Here are five reasons why.
1. 

Convenient location and transportation

Once they land at O'Hare International Airport, attendees can be at Lake Arlington or at the Schaumburg Convention Center in just 20 minutes via I-90. The freeway access also makes it easy for in-state travelers to attend events.

Many of the hotels and restaurants in the area are within walking distance of the event venues, while others offer free shuttle service, making the location even more appealing for attendees who don't want the added expense of renting a car. There are also public transportation options. Want to venture downtown before or after the tournament? Just hop on the Metra Rail at the Schaumburg station, sit back and enjoy the ride.

Schaumburg has also made significant infrastructure investments over the years. The village has 90 miles of bike paths. There are also lockers located along the paths and 1,000 bike parking racks.

 
2. 

Memorable facilities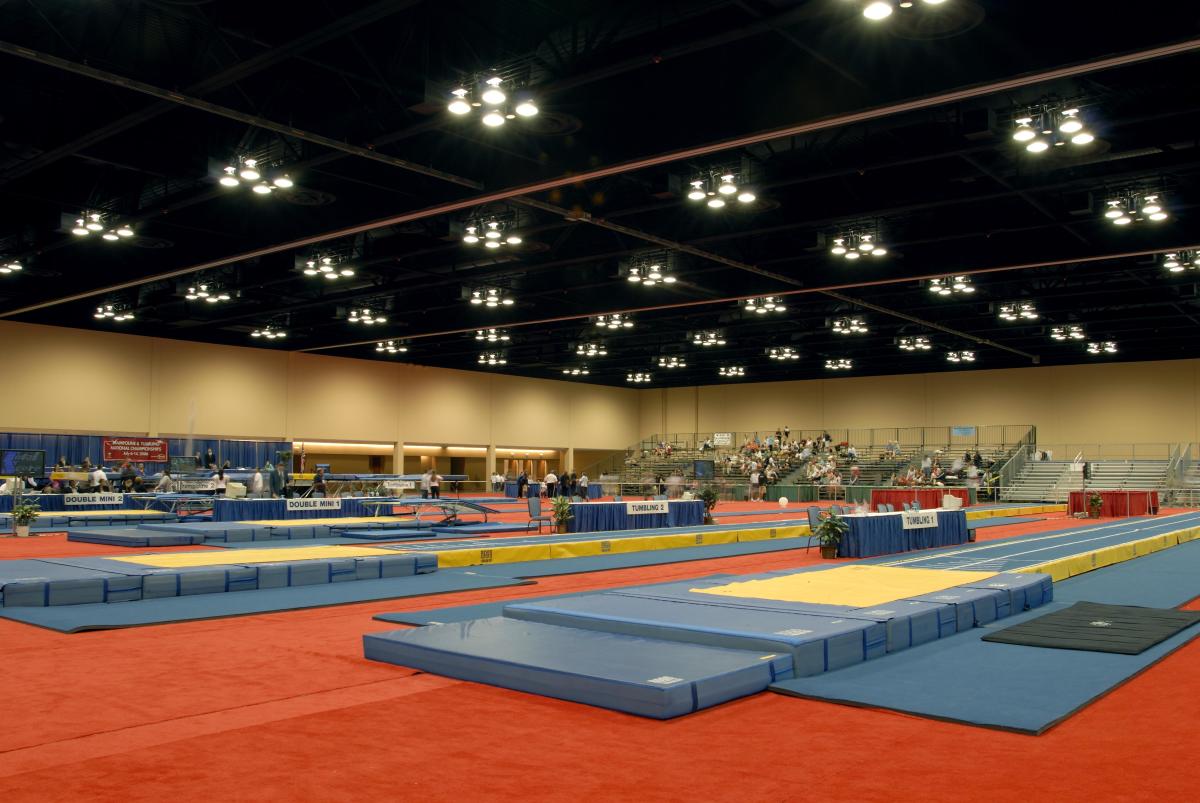 Built in 2006, the Schaumburg Convention Center boasts 100,000 square feet of pillar-free space to host your sporting event. The experienced event planners at the convention center can help you design a floor plan that maximizes visibility for the audience. Spectators will appreciate the great views of the action on the floor, and also the free parking, free Wi-Fi and other amenities offered at the convention center. Event planners rave about the continual staff support throughout events—from informational signage to audience security—which always exceeds expectations. And participants revel in the state-of-the-art audio/visual system. After all, few things are more exhilarating than a player getting pumped up along with the crowd through the power of music, then hearing his or her name announced throughout the entire arena. Well, except for walking across the stage to receive the winner's trophy.
The space at Schaumburg Convention Center checks off many of the boxes on a sports manager's "must list." Private rooms? Check. Use them as a staging area for participants or as a hospitality room for officials and/or VIPs. Easily accessible loading dock? Check. You won't have any problems getting incoming equipment off the truck. Built in concessions? Check. Attendees won't go hungry. Financial incentives? Check. Sporting events held at the Schaumburg Convention Center may qualify for financial assistance.  Ask us how! These cost savings make Chicago Northwest an even more attractive place to hold your event. In an economy where event planners are expected to do more with less and meet lofty ROI goals, every penny counts!
3. 

Rooms aplenty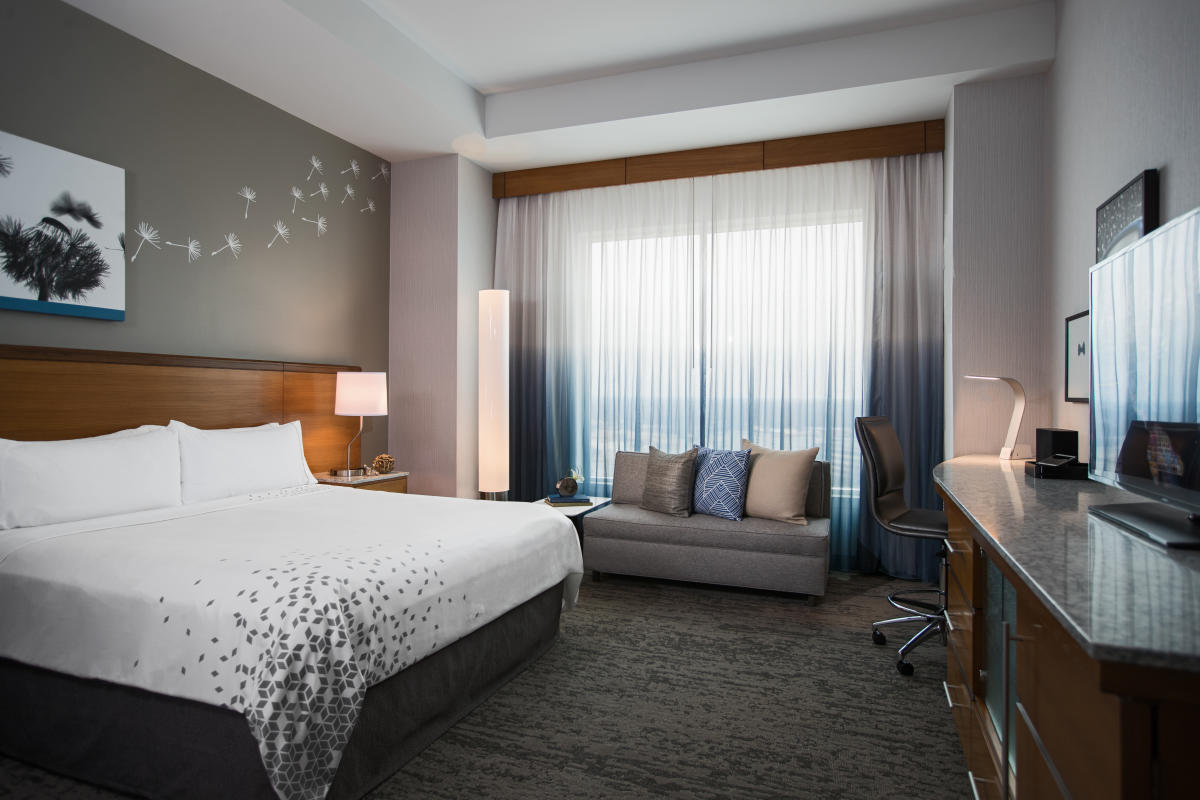 The Renaissance Schaumburg Convention Center Hotel features 500 carefully appointed rooms, and is connected to the convention center for ultimate convenience—no need to even step outside. It offers free breakfast in the morning and hors d'oeuvres in the evening for Concierge Level guests.
The Renaissance Schaumburg Convention Center Hotel isn't the only place to stay in town though. The village boasts 29 major brand hotels, with thousands of available rooms. There are dozens of additional hotels in Arlington Heights. Regardless of the size of your group or the size of your budget, there are more than enough options to choose from.
4. 

Food and entertainment

The dining scene in Chicago Northwest is second to none.  There is a broad spectrum of restaurants in the area to satisfy the most discerning palates.  We suggest you take a look!

Socializing and networking are a big part of any sporting event. Many organizers arrange a morning meet and greet in a hotel lobby or a post-event happy hour in a private room in one of the restaurants in the area. It's always fun to meet new people who share the same passions and discuss the highlights of the event with them. Think of it as the equivalent to tailgating at a football game. Sometimes the best sports stories aren't even about the athletes, but rather the superfans.

 
5. 

Award-winning destination

Organizing a successful sporting event depends largely on the venue you choose. Whether you are planning a local, regional, national or international event, Chicago Northwest is sure to win you over. In fact, Chicago Northwest received a 2017 Readers' Choice Award from SportsEvents Magazine. It's clear that Chicago Northwest is the ideal destination to host the type of event that planners can be proud of, and participants and spectators will want to attend year after year.