Schaumburg Convention Center
The powerhouse meeting facility in the Midwest with abundant free parking
The sophisticated 100,000 square foot state-of-the-art Convention Center features pillar-free space, 30-foot ceilings, 120 feet of covered dock space and 750 MB Wi-Fi access throughout. Seamlessly connected is an additional 48,000 square feet of meeting space including a 27,500 square-foot ballroom at the 500 guest room Renaissance Schaumburg Convention Center Hotel. It's the perfect combination of high-tech performance and total travel convenience.
Grants and Incentives
make the Schaumburg Convention Center an attractive Illinois destination for indoor sporting events, meetings and conventions. First time to Illinois? Ask our destination experts if you qualify for substantial financial assistance to bring an event to Schaumburg.
Renaissance Schaumburg Convention Center Hotel
is seamlessly connected to the Convention Center. This visually arresting escape features a clean, bold architectural design. Here, you'll find a lifestyle hotel experience that inspires and provokes guests to discover something wonderfully new and unique each and every time they stay. Your guest room is the ultimate personal space, an imaginatively reinvented urban retreat where a new generation of travelers can discover unmatched urbane comfort and stylish design. Each of the 474 guest rooms and 26 spacious suites feature sleek, contemporary décor, high speed internet access, and plush accommodations, for the perfect blend of comfort and convenience. Concierge Level rooms feature upgraded amenities and exclusive use of our VIP lounge offering complimentary breakfast and evening hors d'oeuvres.
Over 1,300 Committable Rooms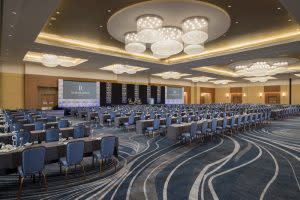 are available in well appointed, full-service hotels within close access to the Convention Center including the Embassy Suites Chicago-Schaumburg/Woodfield, Hyatt Regency Schaumburg Chicago and the Chicago Marriott Schaumburg. An additional 23 hotels are located within a short drive from the convention center offering attendee price and brand flexibility.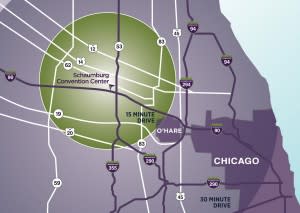 Discover Excellence in an Unexpected Location
Chicago Northwest events enjoy unprecedented attendance due to easy access and free parking everywhere! Schaumburg is located at the crossroads of major highways and only minutes from O'Hare International Airport. Read more about meeting easily in the Chicago Northwest region.
Dining, Entertainment and Shopping Abound
Schaumburg offers vibrant entertainment options for attendees with over 100 restaurants within a 5-minute drive from the Schaumburg Convention Center anchored with world-class shopping at Woodfield Mall. During downtime, a selection of Metra rail lines can transport site-seers to downtown Chicago within minutes to enjoy the city's landmark architecture, the remarkable museums and parks, and its stunning lakefront.
Our Planners Are Talking About Chicago Northwest!
"Mecum Auctions appreciates the guidance and support provided by Meet Chicago Northwest, the Renaissance Schaumburg Hotel & Convention Center, and its partners to help grow our collector-car auction in Chicago. Our customers benefit from the amenities and conveniences of the hotel, convention center, and the surrounding community and Mecum Auctions has a partner to help grow our business."

Sam Murtaugh
Mecum Auctions, Inc.
"There were several reasons why we chose Schaumburg for our new trade show: easy access (versus the city), free parking, more affordable hotels & restaurants (versus the city); for our exhibitors: more affordable exhibit space, services, furnishings and "open shop" (versus "union only" in the city). The Renaissance is a newer, upscale, classy, comfortable and "green" facility that fits well with our industry!"

Terre Houte
Illinois Landscape Contractors Association
(ILCA gathers landscape professionals to their premier show: iLandscape. iLandscape is proud to be named one of Trade Show Executive's Fastest 50!)
Read more planner testimonials.
One Call Does It All!
With one call to our seasoned sales staff, Meet Chicago Northwest can put you in touch with hundreds of essential resources and services that guarantee your event will be an unqualified sensation! The Renaissance Schaumburg Convention Center Hotel and Meet Chicago Northwest look forward to working with you on bringing your next convention, meeting or sports event to town!
Contact us to see if you qualify for the Convention Center incentive!

Pam Hailey

Director of Sales
Market served: Fraternal - Non Greek; Diversity (Including Greek); Cultural/Heritage, Association