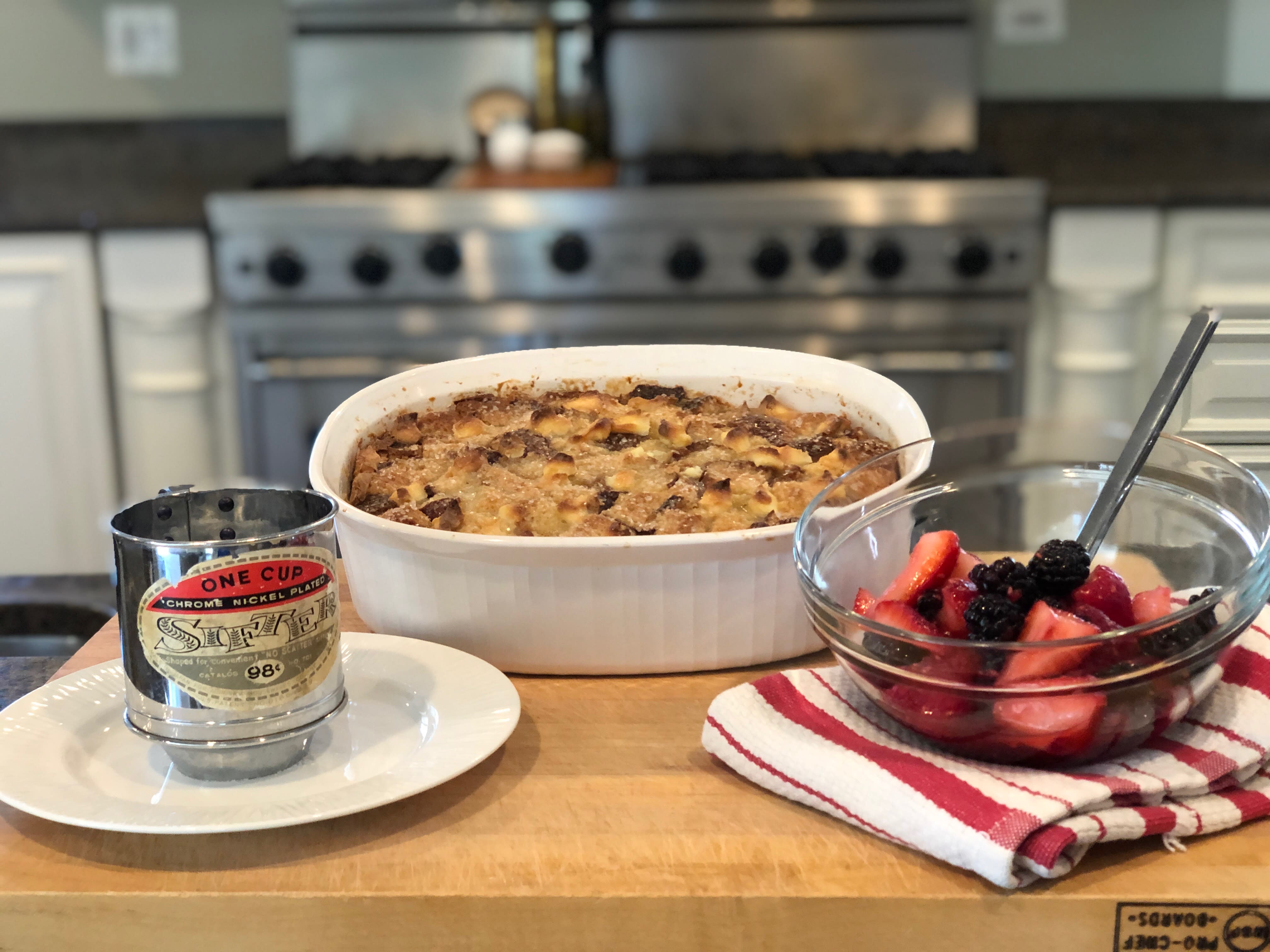 from: Cooper's Hawk Winery & Restaurant Serves: 8 Ingredients:
1 cup whole eggs, whisked (4 extra large eggs measured 1 cup) 1 cup granulated sugar 1 cinnamon stick (or a dash of cinnamon if you don't have sticks) 3 cups heavy cream (no, this isn't a typo - use it ALL) 1 Tbsp vanilla Bean Paste ¼ tsp Kosher Salt 2-Cooper's Hawk Pretzel Bread, cut into 1" cubes 6 Slices Thick Bread such as Challah or Brioche 2 oz Cream Cheese (Optional)
Directions:
Preheat oven to 400°. In a medium bowl, whisk eggs very well and set aside. Heat heavy cream with the sugar, cinnamon stick, and vanilla. Heat until hot, but not simmering. Remove from heat and whisk the eggs into the hot mixture. Pour mixture through fine mesh strainer.  Discard solids from eggs that are trapped in strainer. Break or cube the breads into small pieces in a medium bowl. Pour hot custard over bread in bowl, mixing until moistened. Allow bread to soak in custard for about 10 minutes. Pour moistened bread mixture into a 9" x 13" baking dish, distributing evenly. (Optional: break up the cream cheese into small pieces and push it into the top of the bread all over, evenly dispersed.) Cover with foil. Place dish in a larger pan , then fill with about 1 inch of hot water. Place in oven and bake for 60 minutes at 400° - or until knife comes out clean.
Serve with your favorite jam, jelly, syrup or fresh fruit compote or simply with some butter and powdered sugar!
Special thanks to Cooper's Hawk Winery & Restaurant for sharing this recipe.  Please support them by checking out their carryout and contactless curbside pick-up options and ordering today!