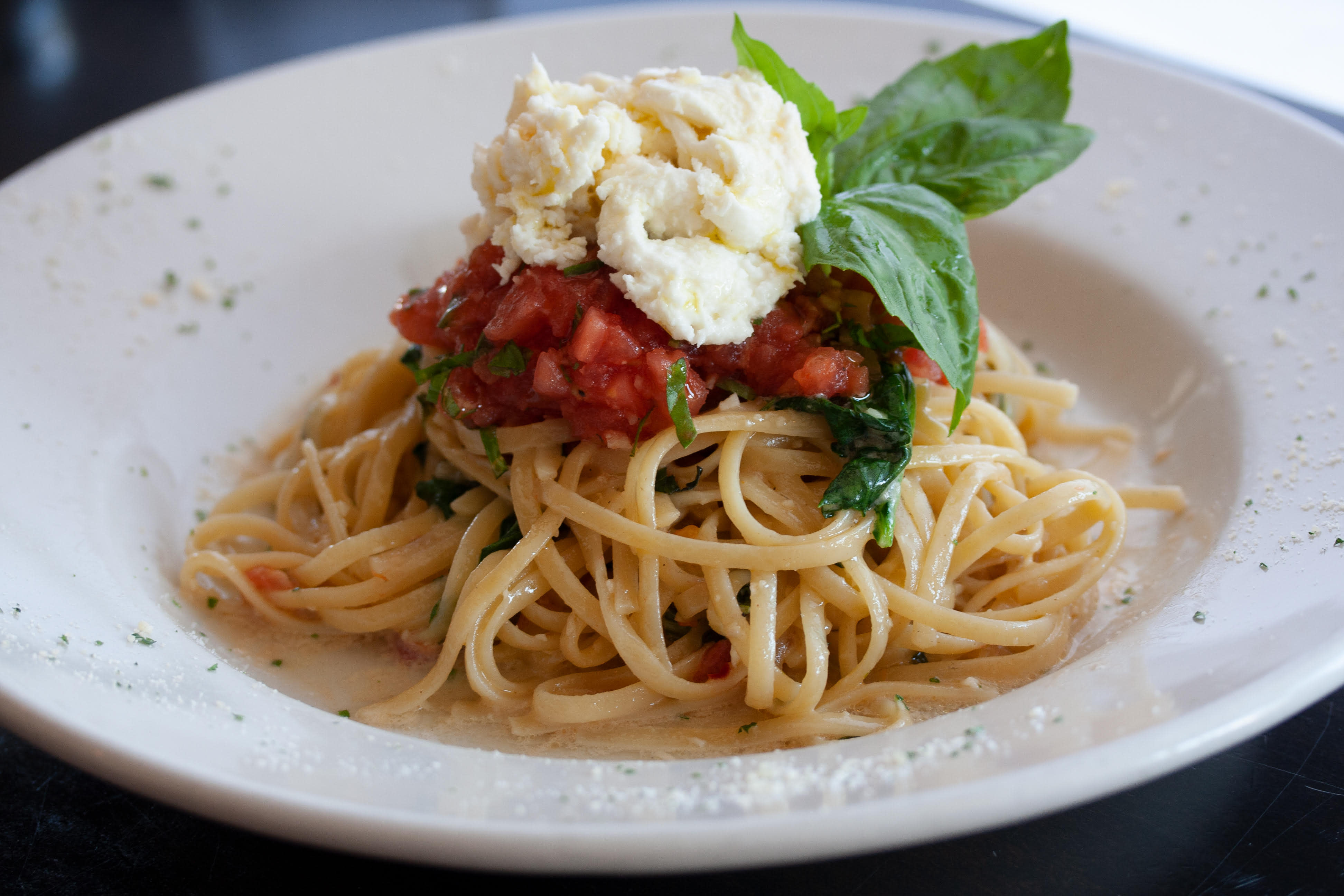 from: Francesca's Tavola
Ingredients:
6(L)-8(D) oz Cooked Pasta [any long noodle] 1 oz Vegetable Oil 1 tsp Garlic (chopped) Pinch Red Chili Flakes 1 oz White Wine 2 oz Chicken Stock 1 Tbsp Butter 1 Tbsp Alouette Salt & Pepper to taste 1 oz Tomato - Roma(chopped) 1/2 oz Spinach 1/2 tsp Italian Leaf Parsley (chopped) 1 oz Parmesan (grated) 1 tsp Basil (chiffonade) 3 1/2 oz Fagattaro Sauce 2 oz Mozzarella (fresh, hand torn) 1 piece Basil Leaf 1 1/2 oz Extra Virgin Olive Oil
Plating Directions (single serving):
Heat vegetable oil in saute pan.
Add garlic and chili flakes and sweat (30 secs.).
Deglaze with white wine and let evaporate.
Add chicken stock and bring to a simmer.
Fold in butter and alouette.
Taste and adjust seasoning with salt & pepper as needed.
Add pasta, tomato, spinach, 1 oz of olive oil, parsley, parmesan and basil. Toss gently.
Plate pasta in 12" wide-rim bowl (L) or 10" round rimless bowl (D).
Top with Fagattaro sauce.
Fagattaro Sauce:
80 oz Tomato 4x5 1 oz Garlic (chopped) 1 oz Basil (chopped) 12 oz Tomato Juice 8 oz Extra Virgin Olive Oil Salt & pepper to taste
Fagattaro Sauce Directions:
Blanch tomatoes quickly and remove casing.
Remove excess water from tomatoes by squeezing.
Meanwhile, heat 1/2 oz oil in saute pan. Sweat garlic.
Rough chop half of tomatoes.
Place the remaining tomatoes(cooked), garlic, basil, tomato juice, olive oil and salt & pepper in blender, blend until smooth.
Combine chopped and pureed tomatoes in a separate mixing bowl and mix well.
Taste & adjust seasoning with salt & pepper, as needed.
Prepare fresh daily.
Special thanks to Francesca's Tavola for sharing this recipe.  Please support them by checking out their curbside pick-up options and order today!