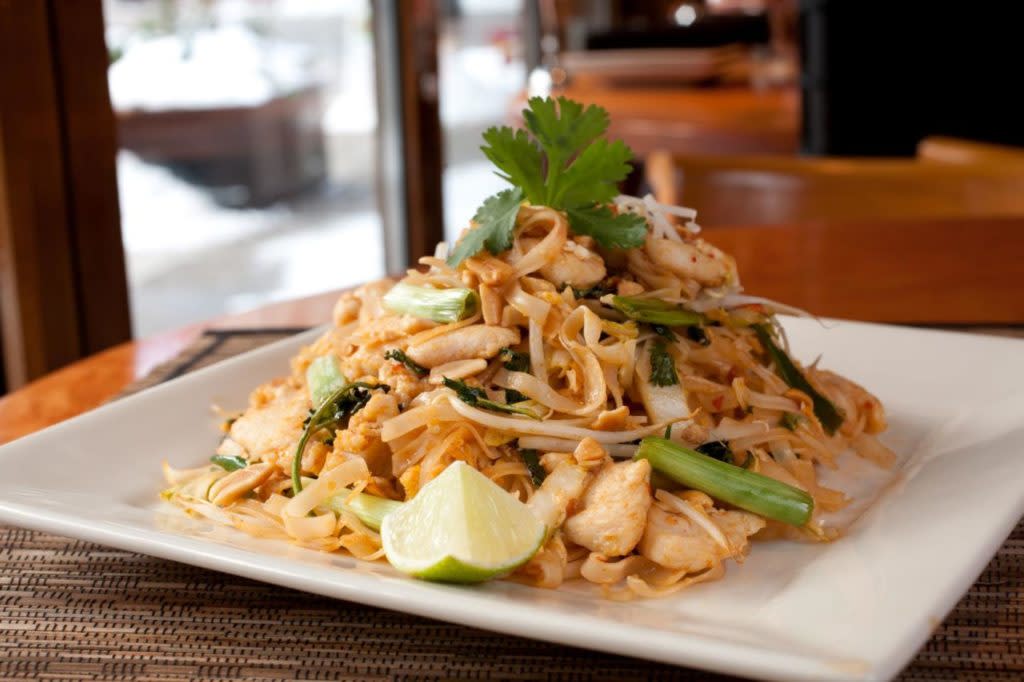 from: Big Bowl
Serving Size: 2
Ingredients:
5 ½ oz. dried pad Thai noodles (1/3 package)
6 – 8 oz. boneless, skinless chicken breast, cut in thin slices
1 tsp corn starch
¼ tsp salt
1 tsp sesame oil
3 Tbsp fresh lime juice
2 Tbsp fish sauce
3 Tbsp sweet thai chili sauce
1 Tbsp brown sugar
½ tsp paprika
½ tsp black pepper ground
½ cup canola oil
2 eggs lightly beaten
¼ cup sliced scallions
2 Tbsp Thai basil chopped
¼ cup cilantro leaves
¼ cup chopped peanuts
1 cup beans sprouts
Lime wedge for garnish
Directions:
Cook noodles according the instructions from the package, using about one third of the pack (5 ½ oz)
In a bowl, mix cut chicken with the cornstarch, salt and sesame oil
For the sauce, mix together the lime juice, brown sugar, paprika, sweet thai chili sauce, fish sauce, black pepper and set aside
In a wok or skillet, heat canola oil. When hot but not smoking, add in the chicken
Stir to separate the pieces
When they change color, remove to drain in a colander
Reserve the oil
Heat a clean wok or skillet to high heat
Add 3 Tbsp of the reserved oil
When hot, add eggs and stir quickly to almost scramble in small pieces
Push the eggs to one side of the pan and add the scallions
Stir briefly just to coat the scallions with the oil and then add the noodles
Toss the noodles in the pan for about 20 seconds and re-add the chicken
Toss continually until the noodles soften and are well coated with the oil and the chicken, egg and scallions are well mixed in
When the pan is hot, drizzle sauce mixture and mix well
After about 5 seconds, remove from the heat and top with Thai basil, cilantro, sprouts and chopped peanuts
Toss until all ingredients are well mixed in
Garnish with a lime wedge
Special thanks to Big Bowl for sharing this recipe. Please support them by checking out their curbside pick-up options and order today!