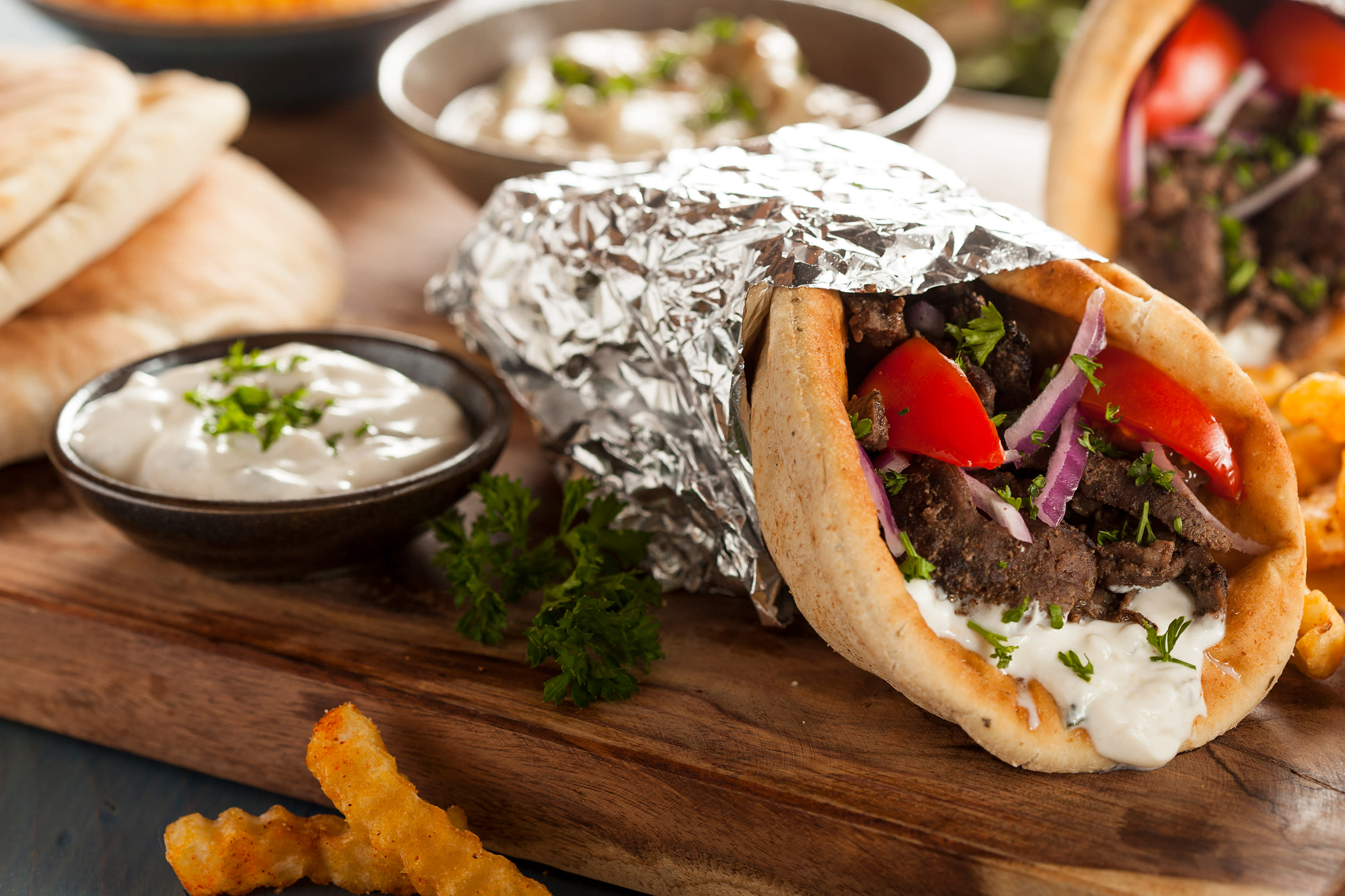 Whether you pronounce it "yeer-ro", "jai-ro" or "gear-o," gyros are tasty and famous Greek-American sandwiches that you don't need to be able to pronounce to enjoy. Traditional gyros are thinly-sliced, seasoned lamb, beef or chicken, placed in a pita or flatbread with seasoned onions and tomatoes, and topped with a classic white cucumber sauce called tzatziki. Gyros are a Chicago Northwest favorite, and there are plenty of fantastic destinations to try.
BenjYehuda's motto is that they are not really into rules, so they opened a place that didn't have any. For instance, their name is almost impossible to pronounce and even harder to spell. Upon entry, expect to hear loud music and see bawdy movies on their TVs. Their atmosphere is only half of the fun because their food is fantastic. Huge portion sizes combined with an affordable, fast-casual restaurant model. This efficient Mediterranean eatery is a must-stop. Order your gyro either on pita, in a bowl, or on a salad - be sure to try their tahini sauce.
Brandy's Gyros takes great pride in serving quality food in a clean and casual setting. They are well known for serving delicious gyros, kabobs, barbecued ribs, black Angus burgers, Greek chicken, and so much more! A Chicagoan mainstay for decades with four locations and one in Schaumburg, these award-winning gyros are a combination of beef, chicken, and lamb - best served with fried zucchini sticks.
Established in the 70s, Gatsby's Sports Pub & Pizza has become an Arlington Heights staple restaurant. Sporting over 80 plasma screen TVs, this friendly and casual bar has a long list of menu items - one of which is gyros. Gatsby's is the perfect destination for catching the big game along with great food and friendly service.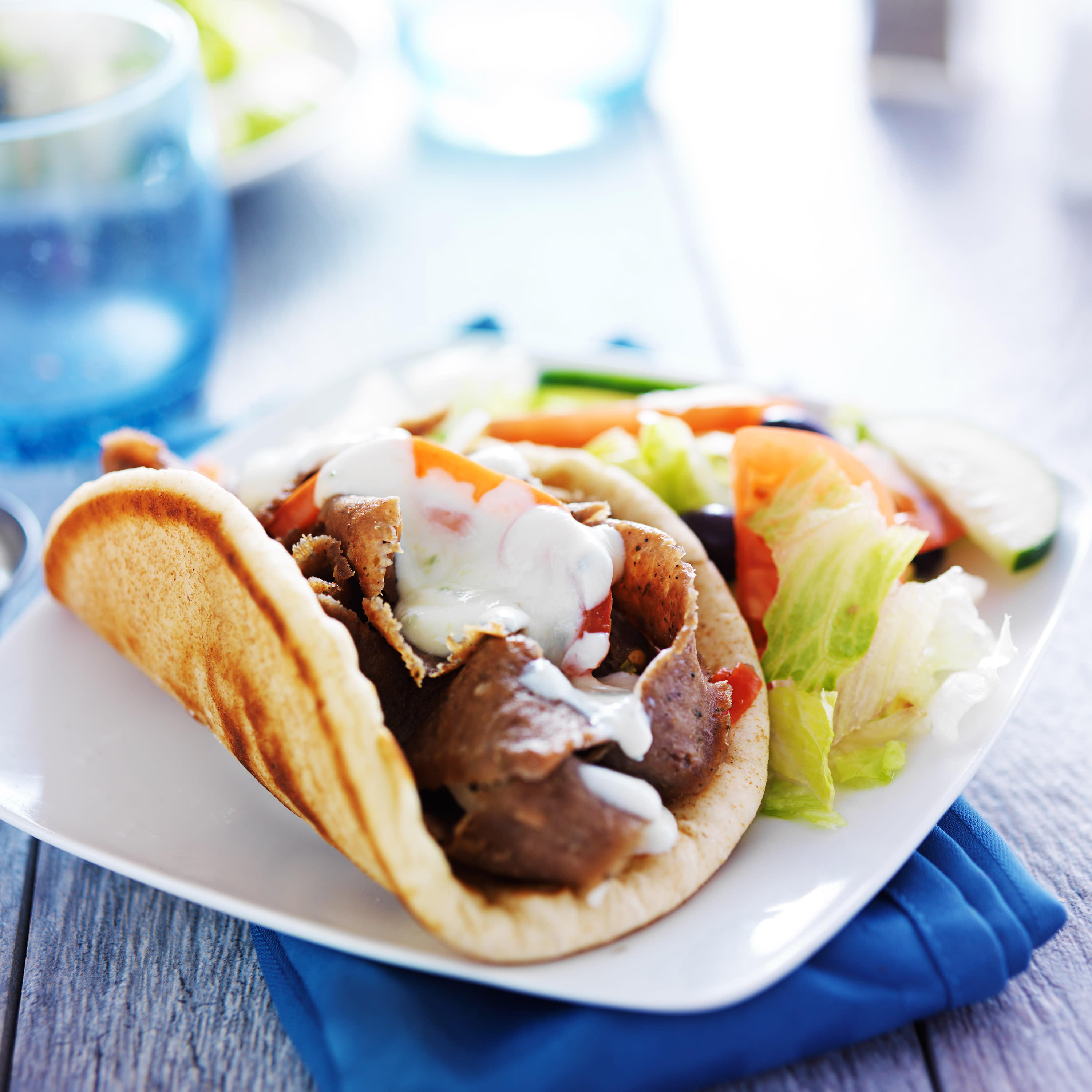 Little Greek Fresh Grill prides themselves on bringing fresh and flavorful food to all of their guests. After walking through their doors, you can count on having servers that are both passionate about Greek cuisine and who provide excellent customer service. Greek food is all about fresh, and you can always count on the best ingredients that the area has to offer. After ordering at the counter, you can expect to wait in a cozy, family-friendly restaurant with fast service. We recommend trying their gyro platter; it comes with their signature Greek Salad as a side!
Who knew that in the quiet town of Itasca, you could receive an authentic Greek experience? Naxos is an experience of the Greek culinary tradition and culture. Their extensive menu reflects both a dedication to value and exceptional quality for their customers. Try their "Create a Combo" option and pair Gyros with an item of your choice! Embrace the Mediterranean culture.
A Chicago suburban favorite, Omega Restaurant is a traditional Greek restaurant that serves breakfast, lunch, and dinner every day. Family-owned and operated, Omega Restaurant has an extensive menu and is known for using the freshest ingredients. They also offer gyros all day, including for breakfast. Try their rich and flavorful gyro and feta omelet or their gyro and feta skillet full of hash brown potatoes, gyros, feta, onions & tomatoes topped with two eggs any style! Side note: they also have a homemade bakery that features delicious cakes, pies, pastries, danishes, and more (baked on-site).
Scooby's Red Hots in Arlington Heights is a family-run restaurant with excellent food and a wide variety of menu items. It is the classic, street-food-style restaurant. You can always count on authentic food at an exceptional price. Along with their flavorful gyros, be sure to try their Italian ice and fresh-cut fries!
Let us know your favorite menu items, and tag us on social media — #ChicagoNW. Looking for more fun ideas this summer? Follow along with our IL Road Trip Round-Up blogs posted each Tuesday through Labor Day.