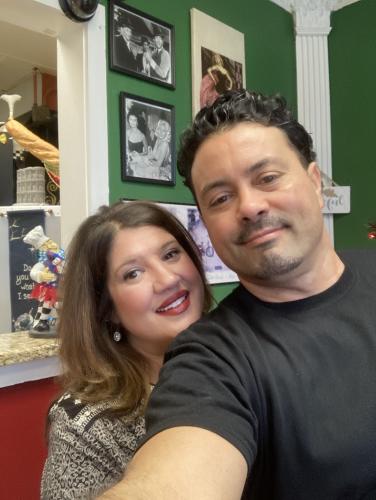 Located in Schaumburg, Joe's Pizza's story stems from love for family and cooking. Nearly 15 years later, that foundation has allowed an American Dream to flourish.
Dino Tazouti immigrated to the United States in the early 90's. On his first date with his now-wife Robin, he cooked for her. The quickest way to Robin's heart definitely turned out to be through her stomach and the pair later married. Date nights in the early years of their marriage, consisted of planning, shopping and cooking the perfect meals. Those special moments helped create their plan to open a restaurant one day. 
The couple settled in Schaumburg when the previous owner wanted to move on. They quickly jumped at the opportunity and began making the location their own. Robin Tazouti says the experience became even more magical once their kids Anthony and Luciano became a part of the family business.
The pair says it's hard to decide what they love the most about owning Joe's Pizza but customer feedback is high on the list. Robin says guests often share that eating at their restaurant is like walking into grandmother's house for Sunday dinner. As an Italian-owned business, it is the ultimate compliment!
Robin and Dino appreciate owning a mom and pop shop. In a world filled with chain restaurants, they take pride in connecting with their customers. Small businesses evoke memories across generations from times gone by. The Tazouti's strive to make Joe's Pizza a comforting and welcoming place. A space to bring children and grandchildren together to create lifelong moments. Being recognized for that has been a byproduct of what they love to do. Robin says that's something that can't be manufactured in a corporate business and can only come from the heart.
Favorite item: Too hard! It's all made from scratch by owner Dino and it's all amazing!!
---
Stay tuned for future Stories of Chicago Northwest!