MEET Tori Cimack, Director of Sales, Sonesta ES Suites Schaumburg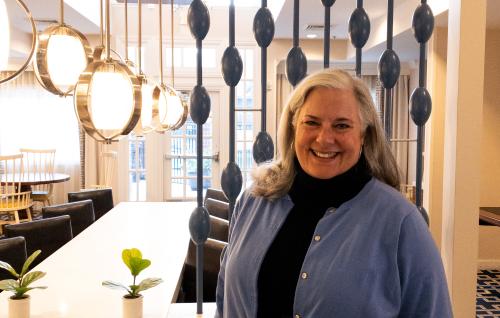 Tori Cimack grew up in southeast North Carolina, in Wilmington and Wrightsville Beach with her parents and younger brother. She recalls, "In the summer, we'd drive to the beach every weekend and spend all day swimming and body surfing in the ocean. I went to the University of North Carolina in Chapel Hill, and my freshman year the basketball team won the NCAA tournament, thanks to a winning shot by another freshman from Wilmington — Michael Jordan!"
Tori graduated with a degree in Communications and began working for the Department of Defense as an Intelligence Analyst.  "It was exciting to work in the Washington area, and I got to study Tagalog, one of the many languages spoken in the Philippines." she states.  She left DC to care for a family member and started work at a travel agency.  
One of her very first familiarization trips as a travel agent was to Jamaica. "We had one normal day of touring, site visits, and Dunn's River Falls, and then the next day Hurricane Gilbert hit the island. Jamaica was hit hard and lost power for days, but the hotels where we were staying and the Jamaica Tourist Board took great care of us all, about 100 travel agents! I was so impressed with the island, the first hotel job I got was representing Jamaican all-inclusives Couples Resort and the Franklyn D. Resort in the southeast."
She eventually found her way up to Chicagoland where she sold for the Harrison Conference Center in Lake Bluff and then the Staybridge Suites in Glenview.  More recently she worked at the Eaglewood Resort and Spa before joining the team at Sonesta ES Suites in Schaumburg in 2019.
When asked what she finds most rewarding about her current position she states, "It's exciting to be part of a growing company like Sonesta, but the most rewarding aspect of my job is contributing to the success of our hotel and our entire team by finding corporate and leisure business that's a great match for our property."  When asked what the hotel's ideal customer would look like she says, "it's different for every hotel, especially extended stay hotels."
"No department at a hotel is an island-- everyone's work and success depends on all the departments working well together. The more you can learn about and respect the tasks and responsibilities of the other departments, the better you'll be able to contribute, and to communicate what's necessary for your position's success.", says Tori.
When not working Tori enjoys cooking, movies and travel, especially with her two daughters. Travel is a passion for her and she really loves going to new places and she'll go out of her way to peek at hotels in the area just for fun! Both of her daughters are in college.  Her youngest is a Sophomore at Purdue studying Biology and her older daughter is a Senior and Computer Science major at Brown. Her mom still lives at Wrightsville Beach in NC, and her brother's family lives in the Outer Banks, where he works as the Executive Director of the Outer Banks Visitors Bureau.
---
Special thanks to Tori for sharing a little bit about herself! We hope you join us as we share Partner Spotlights each month.