Welcome to Partner Spotlight! A highlight of the diverse and talented individuals in our Chicago Northwest region's hospitality industry.
MEET Michael Benjamin, General Manager at ENTERRIUM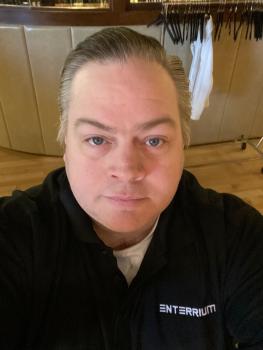 Michael grew up in south suburban Oak Lawn and attended Marist High School.  He later studied hospitality through the National Restaurant Association and the College of DuPage.
The hospitality industry got into his blood early.  His father worked across the street from a restaurant called The Patio.  One day, he went in and grabbed an application.  He loved all the activity and at 16 years old, he was hired on the spot.  That was 1987 and he was making $3.87 per hour and he loved it.  "I worked 60-70 hours per week for a long time.  I thought about doing something else but I just couldn't think about sitting behind a desk.  I loved the energy and I loved the people." says Michael.
Michael considers himself a student of the industry and he fears that hospitality is dying.  "I feel that social media is actually anti-social media.  I am obviously an extrovert.  Cell phones make people less social, more introverted.  You can order your food online, order your groceries online and I think that is terrible.  People forget what it is like to be taken care of.  Let us take care of you.  Let us cook your food and treat you right.  Let us take away your stress and just enjoy yourself.  This is why I do what I do.  I love it."
Michael has been with ENTERRIUM for six years, through name changes and ownership changes.  "But I'm still here."  ENTERRIUM originally opened as Level 257, was later named PAC-MAN Entertainment before becoming ENTERRIUM in April 2021.  Michael initiated several additional revenue streams including the birthday party program.  And he is proud of the way they have been able to reinvent the venue.  "We bring fun into people's lives. Especially nowadays, life has been stressful. It makes me very happy to see people around here have fun, from great food and beverages to bowling, to gaming. I love that we have a lot to offer our guests."
When asked what he would like to tell young professionals today he responds, "I always talk about two things; Respect and Communication. Respect everyone and their jobs and have open and honest conversations. These two things will make our lives and our jobs much better."
Michael is the proud father of an 18-year-old daughter.  He enjoys barbecuing and watching home-improvement shows in his spare time.  He is also an avid White Sox fan.
---
Special thanks to Michael for sharing a little bit about himself! We hope you join us as we share Partner Spotlights each month.