Welcome to Partner Spotlight! A highlight of the diverse and talented individuals in our Chicago Northwest region's hospitality industry.
Meet Lisa Gregor, Owner of Church Street Brewing Company in Itasca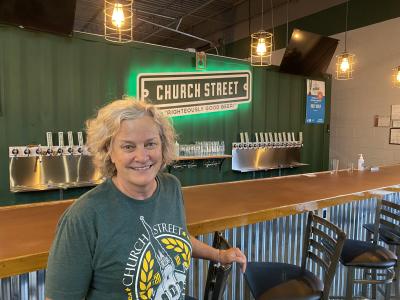 Lisa grew up in the small town of Leland, Illinois. She graduated from Lake Forest College with a degree in Spanish and International Relations. She later earned her MBA from Kellogg University in Finance and Accounting.
Lisa's son had begun home brewing as a hobby and introduced the process to his father, Joe, a UOP chemical engineer at the time. After five years of home brewing as a hobby, the decision was made to start Church Street Brewing. Joe tried out several recipes and the doors to Church Street were opened in 2012.
When asked what one of the more memorable experiences has been owning a brewery, she states, "I will never forget when the brewing equipment showed up. We had been talking about it for months, but the size of the tanks and the fact that we had to get it off the truck in two hours were daunting to say the least!"
While Joe did the brewing, Lisa took charge of the accounting, sales and marketing, festivals, procurement, problem solving, customer service, etc. "You name it!," she exclaims.
They now have seven full-time and several part-time employees. Lisa and Joe's son, Sean has now taken over as head brewer, after 5 years at Bircus Brewing in Ludlow KY. In fact, their daughter is also a brewer working in Virginia Beach for Three Notch'd Brewing.
The brewery expanded by taking possession of most of the building in March of 2020; right at the start of the pandemic. They purchased the building in 2021 and now offer event space and are planning on adding more private space plus a kitchen for a small bites menu. They placed picnic tables, cornhole sets and a disc golf game in their outdoor green space for plenty of social distancing.
To young entrepreneurs looking to get into the brewing business she offers, "Owning a brewery is hard work. Making great beer is a necessity, but you have to make sure people know about it. Sales and marketing are more important than you can imagine!"
For fun, Lisa enjoys learning new languages, travelling and seeing new places. She has lived in Mexico, Spain, Japan and India. She and Joe have four kids aged 23 to 32.
---
Special thanks to Lisa for sharing a little bit about herself! We hope you join us as we share Partner Spotlights each month.