Welcome to Partner Spotlight! A highlight of the diverse and talented individuals in our Chicago Northwest region's hospitality industry.
MEET Gus Diones, Owner of Gus' Diner in Rolling Meadows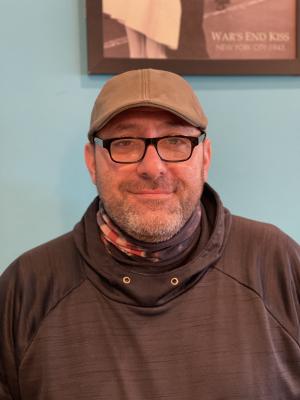 Gus Diones grew up in Chicago's Northwest suburbs and is a graduate of Conant High School in Schaumburg, class of 1994.  But his love for the restaurant business started before high school.
It all began for Gus in grade school.  At that time, his father owned Skewer, a restaurant that was located in Woodfield Mall.  While his father worked the kitchen, Gus enjoyed the front of the house.  He shares that outside the four walls of the restaurant he is actually quite shy and reserved, but inside the restaurant, talking to the customers, he thrives.  He loves the interaction with the customers.
After Skewer, his father bought a diner in Rolling Meadows called Plaza Lane Restaurant.  It was located very close to where his current diner resides on Plum Grove Road.  His father ran that restaurant for twenty years and then Gus took it over for another ten years.  The current Gus' Diner came to being in 2008.    
When asked what his most interesting experience has been he tells the story of working for another restaurateur early in his career, "After several weeks of training, it was my first night as a floor manager.  Nervous, of course, and about an hour into it the rush, a coworker needed help running food.  I grabbed a tray and balanced about five dishes.  As I was coming out of the kitchen, I lost my balance and spilled everything over the owner and his family sitting in a booth nearby.  Not a great way to start my first night and I'm very thankful it wasn't my last."
Gus considers himself a front of the house guy.  He loves to interact and build relationships with his long standing customers.  Many of his customers have watched him grow up in the industry through the years. 
When asked how he would mentor young professionals just getting started in this business he states, "This isn't a job, it's a lifestyle. You either love it or shouldn't be in it.  I believe everyone at an early age should work in a restaurant.  I've learned more from hands-on experience, being thrown into it, than any course I ever took."
When Gus is not at the diner, he enjoys spending time with his wife and two children aged 1 and 3 years old.  Gus also loves music and collects music memorabilia such as rare albums and 45's.  He has several autographed pictures and guitars.
---
Special thanks to Gus for sharing a little bit about himself! We hope you join us as we share Partner Spotlights each month.