MEET Christopher Bonk, Owner of Bottle & Bottega in Arlington Heights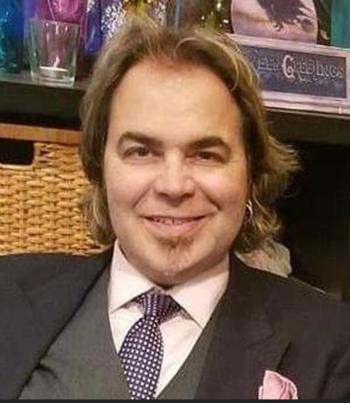 A Chicago native who spent the first 5 years of his life in the city, Christopher Bonk's family moved to the northwest suburbs of Chicago.  His father still lives in the family home where Chris grew up in Mount Prospect.  He graduated from Northern Illinois University with a Bachelor Degree in Fine Arts.
Before opening Bottle & Bottega in 2015, Chris worked as a commercial illustrator and animator.  He worked on ad campaigns for Marlborough, McDonald's, Jim Beam, United Airlines and several pharmaceutical companies.  "It was fun to see my work in print and on tv", he says.  However, in 2013, the ad agency went through a significant downsizing and he began to freelance.  He had the opportunity to ask himself what he wanted to do with his life.  He decided, "If I am going to bust my butt, I am going to bust my butt for myself."  Staying in the art field resonated for him.  And even though Leo Burnett came back to him with an offer to work on a multi-million-dollar project with salary and benefits again, he decided he wanted to work for himself permanently.  He took out all of his liquid cash and purchased a Bottle & Bottega franchise to be built in Downtown Arlington Heights.  At one time he had expanded to Highland Park but wasn't getting nearly the attraction he was in Arlington Heights so he closed that store and went all-in at the store on Campbell Street.
Bottle & Bottega originated in Chicago.  He chose this company over other types of paint and sip businesses because they allowed him to put his own flair on the look of his store and the type of art he wanted to do.  They allowed him to offer nude modeling nights that other franchises don't allow.  And he was able to decorate the way he wanted as well.  He was able to create a store that is kitschy and fun, like a chic loft space; definitely not a strip mall.  The company was later bought out by Painting with a Twist, but he has kept the original name as Bottle & Bottega.
When we asked about an interesting experience, he said, "At our art studio, we have many interesting characters. Especially when alcohol is involved. I'm always moved when there is a marriage proposal happening right in front of us and we are able to help facilitate that event. We did have one anniversary that didn't go quite as planned. A gentleman paid for us to recreate a wedding picture of them on the beach. We put it on the wall in front of them. The husband was hoping his wife would notice the painting there and be moved. When she finally saw it, she laughed. We all felt bad for him as it was a super sweet gesture, but it didn't result in the tear jerking 'awww' moment we were expecting."
Christopher goes on to say, "Every piece of art I used to create in advertising was to sell something. When you create for fun, it's more satisfying.  We create good times and it's nice to see people enjoying themselves.  That is really rewarding.  I play DJ during the weekend events and I love to play the role of host.  I especially like to see the grumpy guys who don't initially want to be there.  But eventually, they start singing along to the music and get into it."
When asked what he would say to young entrepreneurs out there he advises, "You'll get there. It might take longer than you thought it would. And it doesn't necessarily get easier like you might think either. I work harder now than at any time in my life, but when you own a business...it is your life."
---
Special thanks to Christopher for sharing a little bit about himself! We hope you join us as we share Partner Spotlights each month.