Welcome to Partner Spotlight! A highlight of the diverse and talented individuals in our Chicago Northwest region's hospitality industry.
MEET Adriannah Beckham, Owner of SoCo Restaurant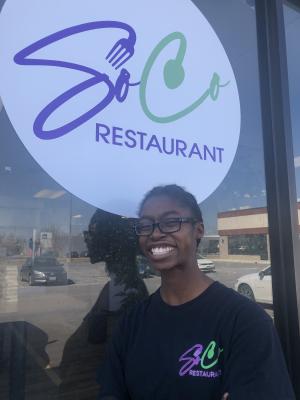 Adriannah is the Owner-Operator of SoCo, a new comfort food restaurant located at 812 East Higgins Road in Elk Grove Village. The menu at SoCo is inspired by southern recipes, just "like Grandma used to make."  Her great-grandmother was a caterer, originally from Texas, and she is confident those amazing Sunday dinners prompted her love for Southern cuisine.  
Adriannah loves working for herself. In college, she started three (3) service businesses and at the age of 21 she opened her first restaurant complete with a liquor and gaming license. But entrepreneurship hasn't come without its challenges.  She lost her first restaurant in a fire last year, after extending all efforts to sustain it through Covid. She then worked closely with her Chef to create the menu for this new concept. She recollects, "Prior to signing the lease, I confirmed with my Chef that he was ready to go. Thirty days into the project he informed me he was relocating to Florida. It has been a whirlwind since, but I am tenacious and after months of delays, finally open. Shameless plug, WE ARE HIRING!" 
An avid chocolate lover, she jokes, "SoCo is slowly evolving into a dessert shop with our banana pudding, peach cobbler, and Turtle Dove pound cake as best sellers."
When asked why entrepreneurship, Adriannah proudly boasted, "I have been dabbling in entrepreneurship since I started selling candy bars to finance my trip to Germany." "In college, I was President of the Future Business Leaders of America, which further fueled my dreams of owning a business." But she admitted it all started by growing up in the restaurant business "working" for her mom; who owned a dinner theater, restaurant, and lounge. The stage in the venue hosted live comedy shows, stage plays, and spoken word sets. Adriannah reminisces about learning to operate the sound booth, lights, and how exciting it was to help the actors learn their lines.  Most importantly, she discussed how much she learned about business by being with her mom daily.
Adriannah's story began in Milwaukee, Wisconsin. She graduated from Menomonee Falls High School, where she discovered her love for languages. She studied German, Japanese, and Spanish at the same time, but it was her trip to Germany that definitely helped with her fluency and made her want to attend University there. She ultimately decided to remain in the states double majoring in Entrepreneurial Studies and Business Administration with a Certificate in Leadership from Rider University in New Jersey.
As she continues to write HER story, Adriannah wants to "help people, learn something new everyday (especially about the stock market), and expand her business portfolio." She happily still volunteers as often as she can and reads about 100 books per year.  She loves hospitality and feels "maybe someday, I will own a McDonald's and full-service hotel complete with theater space; preferably on a beach where I cannot only make my dreams come true, but enjoy the view with a book in hand."
When asked what she would tell young professionals she responded, "I would tell a young professional to get a strong team behind them and to create a "Board of Advisors" where they have someone who is an expert in accounting, law, and their industry. These will be the people that you can go to for brainstorming and they will be more helpful since the decisions you make will not directly affect them." Most urgently, I would tell them to be prepared to do the work. They should know everything about their business. They should MAKE the time to do every job at least three times to know what it entails. In the restaurant industry this will be even more important than ever, especially with the current labor shortage."
---
Special thanks to Adriannah for sharing a little bit about herself! We hope you join us as we share Partner Spotlights each month.