Welcome to Partner Spotlight!   A highlight of the diverse and talented individuals in our Chicago Northwest region's hospitality industry.
MEET Dieter Heigl, General Manager, Renaissance Schaumburg Convention Center Hotel - Meet Chicago Northwest Board Member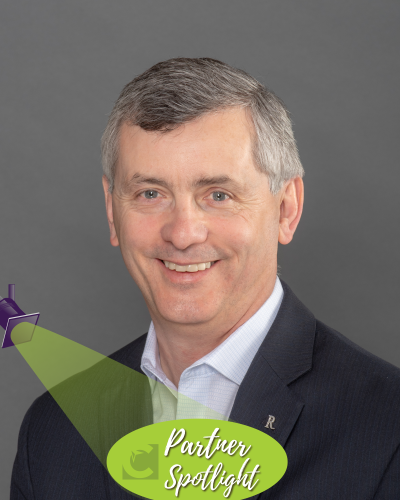 Growing up in the medieval town of Weiden, in northern Bavaria, Dieter Heigl's boyhood home was located in the town center, directly above the restaurant  his family owned.  Most everything was within a few steps of his home including weekly markets and even his school, just an eight minute walk.  For Dieter, life revolved around the family restaurant.  After school, he was called on to help in the kitchen, to go shopping, and whatever else was needed for the restaurant. The business has been in the family since 1913, 108 years and counting, and is known today as Klassik Hotel am Tor.  His parents have welcomed guests to their restaurant since the 1950's for about 30 years, the hotel is run today by his nephew Thomas Heigl.
At the age of 15, Dieter began his apprenticeship in the family business and was training to become a certified chef. After he completed his apprenticeship, working in (West) Berlin, he and his friends found jobs working at the Westin Johannesburg.  He worked there for two years before moving to the Loire Valley in France and then restaurants in Paris on the Champs-Elysees.  At the age of 21 he was recruited through an exchange program as a culinary trainee to work at the Marco Island Marriott in Florida; and has been with Marriott ever since.
For the first twenty years or so of his career, Dieter worked in kitchens from Bermuda, Boston, to Amsterdam, to San Juan, Puerto Rico. Dieter also obtained certifications as Sommelier and Executive Chef. He has called Chicago home since 1998 when he started at the Renaissance Chicago as Director of F&B and Operations. Since 2004, Dieter has been General Manager at the Renaissance Oak Brook, Marriott Oak Brook, and Marriott O'Hare.
When asked what his most interesting position was he recalls, "Opening the San Juan Marriott, the very first Marriott on the Island of Puerto Rico. No one at MI (Marriott International) had any idea about supply chains, local foods or ingredients or how to do much of anything.....crazy times."  Dieter tackled this challenge by introducing himself to as many chefs on the island as he could creating an informal networking group to share crucial resources and ideas.  Fun fact, most seafood served in Puerto Rico is flown in from New York.
When asked what he would like to tell young professionals, he states, "Do your best to get as many skills as you can and take on every new opportunity that you are given."
While not at work Dieter enjoys traveling, skiing and cheering on his favorite German soccer team, Bayern Munich. He has been married to his wife Lisa for 32 years and has two adult sons both of whom are Eagle Scouts. 
---
Special thanks to Dieter for serving as Chair of our Board of Directors (2019-2021) and a big thank you for sharing a little bit about himself! We hope you join us as we share Partner Spotlights each month.