Welcome to Partner Spotlight!   A highlight of the diverse and talented individuals in our Chicago Northwest region's hospitality industry.
Meet Christina Anderson-Heller, Marketing Director, Lynfred Winery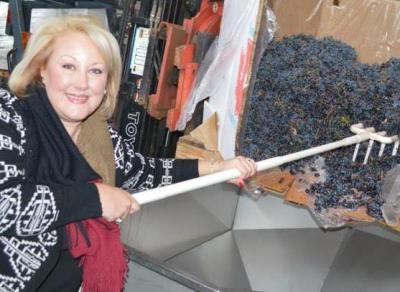 A native of Wichita, Kansas, Christina moved to the tiny west Texas town of Seminole for her father's job in the oil industry.  At the age of 13, all she could imagine were the stereotypes of Texas; oil rigs, tumbleweeds, cowboys, rattlesnakes and tarantulas.  "Seminole was ALL of that!" says Christina,  In high school she was into everything; sports, student council, drama, choir and FFA (Future Farmers of America). She even raised Berkshire hogs and to this day has a trophy in her office for winning the "Cleanest Pen Award".  While in college at A&M's Tarleton State University in Stephenville, Texas, she worked at the local Holiday Inn as a server and bartender.  After graduation, she became the Director of Sales & Catering. It was there that she realized that hospitality was what she really wanted to do in life and decided to move north to Chicagoland to pursue that dream in 2000.
Christina celebrated twenty years with Lynfred Winery last year.  "I have a dream job, I know it, everyone knows it, the wine industry is like a warm hug every day… I absolutely love sharing my passion for the industry with our guests. Wine is history, relaxation and luxury; it is a lifestyle. I am an extremely creative person and my job allows me to combine my creativity with hospitality every day." shares Christina.
Married to Hans, a native New Yorker, since 2005, they met in Roselle just a few months after they had each moved to Illinois. She is an avid cook and loves to entertain.  She and her husband love to spend time together sailing. They spend their summers living on their sailboat, 'Hell'er High Water', a 331 Beneteau, in Wisconsin on Lake Michigan. Christina notes, "You should really like who you are going to live with on a boat."
Christina credits her mentor and Lynfred Winery founder Fred Koehler for her success.  "It is because of his mentoring that I do my best to pass down what I have learned to others. The wine industry is one that many want to enter, but it is a hard one to get accepted into. My best advice is to discover what area of the industry you want to be in and then chat with people in the industry. LinkedIn is a great place to begin."
---
Special thanks to Christina for sharing a little bit about herself! We hope you join us as we share Partner Spotlights each month.