Welcome to Partner Spotlight!   A highlight of the diverse and talented individuals in our Chicago Northwest region's hospitality industry.
Meet Ana Santos, Owner, Brazil Express Churrasco Grill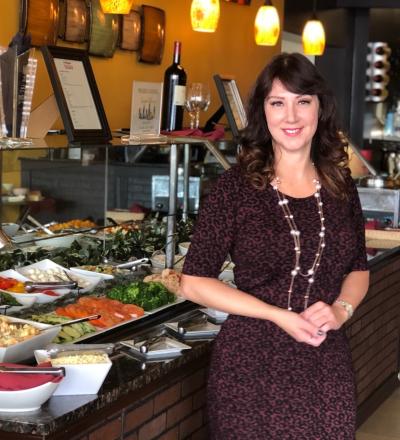 Born in Rio de Janeiro, Brazil, Ana and her family were poor but never hungry.  Her father owned a small shop that served the community.  Ana and her three siblings were blessed with a caring mom and a hard-working dad. After high school, she went to work for a technology company as an administrative assistant who paid for her to attend night classes and get her college degree in Administration.  She worked for several large companies over the years but her father's entrepreneurial spirit as a small business owner always kept her dreaming of the day she could own her own business.  
After immigrating to the United States, she started working for restaurants as a hostess and server. She quickly fell in love with the liveliness of the hospitality business and started seeking out opportunities to own her own restaurant.  Ana explains, "More than ten years passed while I was gathering experience and money to fulfill my dream of finally opening my own business. Coming from an undeveloped country where everyday struggles make one strong and more resourceful person, I developed abilities to overcome all difficulties including the language barrier."
Known for their delicious picanha (prime sirloin), Ana opened Brazil Express Churrasco Grill in 2012, with her husband Mario Vitelo, on the heels of the Great Recession.  "Nevertheless, against all odds and facing many challenges, our restaurant started to be recognized as one of the Chicago Northwest suburbs' hidden gems, and a successful family-owned and operated Brazilian Steakhouse." says Ana.  The restaurant will celebrate its ten year anniversary next year and Ana assures us she is just getting started.  She plans to innovate and grow the business over the coming years.
She credits much of her business success to the Harper College Small Business Development Center who taught her how to open a business in Illinois and is always available when she has a question.  When asked what she would like to share with young entrepreneurs she says, "You need to find out what your passion is, what you want to do every day. Once you have that answer, you can plan and save to make your dream or idea a reality. You will always need more money than you think will be enough, but look for great mentors and they will guide you through your journey to success."
---
Special thanks to Ana for sharing a little bit about herself! We hope you join us as we share Partner Spotlights each month.