Owner of Frato's Culinary Kitchen and Co-Founder of
District 214's Culinary Arts Apprenticeship Program
Please tell us a little about yourself and how you got into the restaurant business.
Since I was a child, I've had an entrepreneurial spirit and a desire to problem solve which fueled my craving for education. One can't effectively problem solve without a dedication to knowledge and improving oneself.  My father was a computer programmer which helped me develop those skills at a young age. During my early years, I enjoyed doing B2C sales...learning the ropes of effective communication and turning that into early leadership/manager positions.  During and after college, I went into B2B sales and worked my way up until an opportunity came that a restaurant group was looking to expand and I could join with the intent that someday I would become a restaurant owner myself.  Unfortunately, between the 2008 collapse and the fact the restaurant group grew overly aggressively without a solid foundation, that restaurant group went out of business before I could reach my goal of being a business owner.  Faced with the question of what to do, I felt I had come too far and started looking for restaurants within a budget I could afford. Now, I was going from viewing multi-million-dollar restaurants to something significantly smaller, which was disheartening, but I was up for the challenge. That is how I came to find Frato's Eatery as a distressed restaurant with a great deal of history in the area.  With a talented Chef-on-board my new team, Chef Ed Musto, we sought out the task of fixing Frato's Eatery.
Tell us about Frato's Culinary Kitchen.
Frato's Culinary Kitchen is the evolution of Frato's Eatery from a Hot Dog Stand to a made-from-scratch Culinary Kitchen.  Frato's is a 40+ year-old restaurant, originally owned by a Frank and a Tony, hence the name Fra-To (Fray-Toe).  The restaurant environment changed and Frato's Eatery was built on mostly Chicago-style sandwiches.  In a good economy with a lot of foot traffic (great demographics/location), that's a winning business model. In the post-2008 economy, food traffic started decreasing and costs started rising.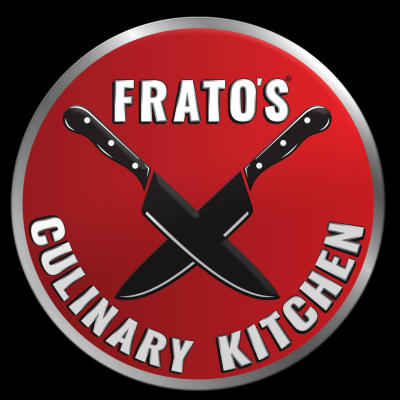 So how can you charge a proper price to pay your bills for an item that someone can get at the local grocery store?  That is the simple and unique idea behind Frato's Culinary Kitchen.  We are not only a mostly made-from-scratch kitchen, but we create as many unique items as possible with a very large following around our Gourmet Pizza, Bacon-Beef Burgers & Massive Handmade Mozzarella Sticks (logs).  Featured on Chicago's Best, WGN News, Windy City Live....in multiple publications from Only in Illinois, Food on Demand, Eat This, Not That magazine and more.
We also found that hiring and retaining staff was a struggle as we were not attracting "passionate" cooks, but instead those that just wanted a paycheck so they could leave for another job without much thought. This meant we were training non-stop, which is a big investment. So, my problem-solving mind went to work. Chef Ed and I decided to start Frato's Culinary Apprenticeship Program. This program hires culinary students and develops them into something more.
We found a significant problem with the culinary industry's education and career pathways. We sought out to fill that gap ourselves with Frato's Culinary Kitchen as the training ground. We don't hire outside managers; we develop our own. We focus on building cooks into leaders instead of leaving them as cooks. Cooks have an expiration date in this industry, it's grueling, but too few restaurants are willing to turn cooks into leaders. That's where we come in.
To date, I would put our turnover numbers up against any restaurant in the nation. We retain employees far more than anyone else because our program is built on actually caring about our staff and seeing them develop into true culinary leaders.
How did you first start working with the students at District 214?
One of the more personal reasons for starting the culinary training program is the need to help others.  Raised by amazing parents that instilled this in me, it is a core principle at Frato's and when I hire, I ask enough questions to see if the person we are hiring has that deep inside them as well.
If we're going to work the hours that we work, we want to feel we are improving others and the community around us. It helps us sleep at night after a grueling weekend. It helps us work together as a business family ourselves. The goal is to give excited, yet unskilled, cooks a head start. Giving them the tools at an early age so they can truly develop them over a long career while knowing they will also be giving back to others (a form of pay-it-forward).
Ultimately, it felt like a natural add-on to work with the local schools so I reached out to multiple teachers and one of the most passionate ones that responded was Erin Ludewig from Elk Grove High School. Without trying to make this sound like an advertisement for her, she is one of the most intelligent and caring teachers I have ever encountered. Her students are her life and it is great to watch. Technically, every single person from District 214, that I have had the pleasure of meeting, has been impressive and it is eye-opening how much they truly care.
We reached out with the idea of creating a pizza competition to teach the kids in a "fun" way.  Luckily, Erin was able to work with us because frankly, we didn't know how best to work with the schools. It was all new to us. This was all trial and error to figure out. On top of it, with the tough schedule we already work, we could only dedicate so many hours.
Erin helped teach us how to be better teachers. Through learning from Erin and other teachers that started to come on board from various other schools, we were able to develop multiple relationships towards pizza competitions, speeches, field trips, being a resource to students and more. This grew into working with local colleges as well.
Finally, we were approached by Erin and Kathy Wicks, from the district itself, about teaching culinary interns. What a great idea to give a real-world experience! Since we are already in a training-mode with a made-from-scratch kitchen, it was a perfect fit to bring in culinary interns and teach them what we do. It even helped our young chefs and assistant chefs-in training to learn how to properly manage and train a larger team. A great win-win all around!
Please tell us about the training the students receive while working with you and your staff.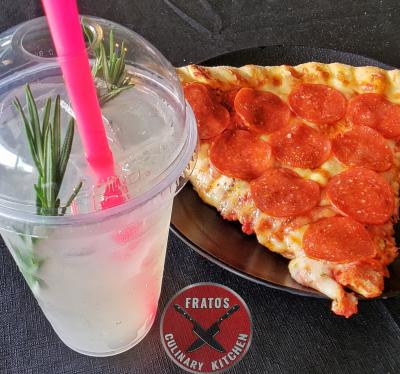 Our training is real world experience. In the restaurant industry, you have to be talented in many areas, not just one. The needs of the day change on a whim. All of a sudden, we could get a $1,000 order out of nowhere and since it's made-from-scratch, it's all hands-on-deck at that point.  The only downside of the training is they are available only during school hours, which can be our slower times. This limits the experience we would love to offer, but it shows them some of the hardest parts of the industry itself. Preparing food-from-scratch is a tedious process (mentally tiring) that must be built on speed and consistency. If it takes you a full hour to make only five mozzarella sticks, those will be the least profitable mozzarella sticks we ever sold. Math and processes matter. This is where you see if the student has a real passion for the industry. The ability to self-motivate and challenge themselves to do it better and faster.
It ends up being one of the best training experiences for them to determine if the restaurant industry is really for them. Too much Food Network TV has people thinking the industry is easy and full of glitz and glam, but it's far from it. It's a very serious and tough industry. You have to have a true desire for it to survive it. It's not a 9-to-5 — it's a lifestyle.
Outside of learning how to prepare different types of food, working on their knife skills, learning how to build meal prep from our Clean Eats Kitchen Meal Prep (a virtual restaurant) or fulfill orders from our Frato's Temptations Bakery (another virtual restaurant) while also learning how to cook some of the basic tickets we receive in the restaurant during the day, we focus on building their confidence. Confidence is one of the most important lessons we try to offer these interns.
The hardest struggle for some of them is to get past their internal fears and push themselves. These struggles can simply be a fear to open up and talk to a fear of cooking in a hot loud kitchen with tickets coming in faster than they can think while customers are staring at them, waiting for the food to be served. It can be intimidating at first, but we try working through it so at the end, they feel more confident. Confidence is the key to unlocking your true potential instead of shutting down once you face an obstacle.
After the internship program, these students have a strong sense of accomplishment that builds their confidence in a healthy way.  The program goes a long way to preparing a new generation of hospitality professionals and Michael wants to expand that partnership with plans to develop a second location that has more modern technology which should assist interns in building their confidence much faster.   "We build chefs and culinary leaders....we hope to build many more as we grow. "
If you would like to learn more about District 214's Culinary Arts Pathway and how you can get your restaurant involved, click here for more details and reach out to Kathy Wicks at kathy.wicks@d214.org.
---
Special thanks to Michael for sharing a little bit about himself and his partnership with the District 214 Culinary Arts Pathway! We hope you join us as we share Partner Spotlights each month.