We have all heard the saying, "Laughter is the best medicine." Fortunately here in Chicago Northwest, we have exactly what the doctor ordered! Home to a couple of incredible comedy clubs, a visit will ensure to get the chuckles going. March 19th marks National Let's Laugh Day, the unofficial holiday that reminds us to add a little humor to our day.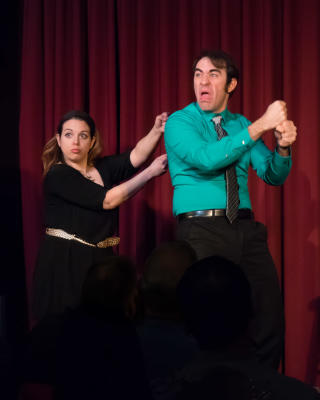 Located at the unique Streets of Woodfield, Laugh Out Loud Theater will make you do just that - LOL! The venue is home to shows every Friday and Saturday night. Visitors can expect an intimate, cabaret-style club featuring both family-friendly & adult-oriented improv comedy shows throughout the year.
In addition to the improv comedy shows, the club offers classes to aspiring comedians. Most recently, the club began offering in-person classes again. Whatever your background, improv can be for you! Whether you're a barista or an accountant, or a stay-at-home parent, improv classes at LOL Theater can help unleash your inner creativity. 
The extensive cast as well as the improv atmosphere ensure that you will have a unique experience every visit. 
Metropolis Performing Arts Centre is well known for being one of the Northwest suburb's leading venues for quality theater entertainment but in addition to musical productions, it is also frequently home to well-known comics.
The downtown Arlington Heights theater houses 329-seats which hosts hundreds of performances each year. Previous and scheduled comedians have impressive resumes including appearances on Comedy Central, NBC, CBS, Fox, among others.
Metropolis' event calendar offers a variety of comedians year-round for those looking to get a laugh!
The Improv Chicago in Schaumburg is a great place for a night out! An iconic name in comedy, the Improv is a premiere Comedy Showcase.  
Located inside Woodfield Mall, the club will give you the ultimate comedy experience! Guests can buy tickets to catch big name comedians we all know and love or watch upcoming talent grace the stage.
Chicago IMPROV is home to comedians with appearances on Fox, NBC's Saturday Night Live, who have starred on the big screen or in their own HBO specials.
Most of us know Hey Nonny as one of the best places to listen to live music in Chicagoland, but did you know the venue is also a stage for comics? 'HEY Comedy' is a hilarious show where a variety of comedians take the stage to put their best bits on display. 
Hey Nonny consists of two parts: a listening room where performers engage with the audience, and a Midwestern Bistro.
Located in downtown Arlington Heights, the venue offers an intimate live experience where great performances are combined with delicious food and excellent drinks.
"HEY Comedy" Comics help deliver patrons a bit of that "Hey Nonny Nonny" carefree bliss, it's a feeling you definitely want to experience!
---
Our events page showcases all the comedy offerings happening in the Northwest suburbs of Chicago. 
Bookmark us!