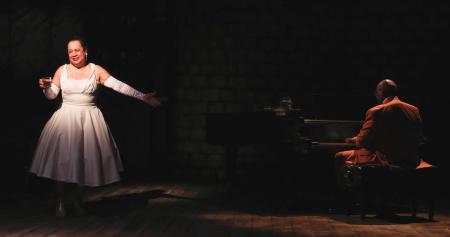 Every February, we recognize the achievements and sacrifices of African Americans throughout American history. Black History Month is a time of acknowledgement and reflection on the generations who helped shape our nation despite facing adversity.
Among the African Americans celebrated for their incredible accomplishments is Billie Holiday. Between the 1930s and 1950s, Holiday captivated audiences with her voice. Nicknamed Lady Day, she is known as one the most iconic jazz singers in American history and changed vocal singing as we know it today.
Metropolis Performing Arts Centre's most recent production, Lady Day at Emerson's Bar and Grill, focuses on Billie Holiday and her journey through a lifetime of remarkable music and momentous events. The show is based on one of Holiday's last performances in Philadelphia just months before her untimely death.
Mardra Thomas stars as Lady Day at the Arlington Heights theater. A role she says she does not take lightly. 
"When Billie Holiday couldn't use the front door," said Thomas. "It was during segregation, Jim Crow laws. She [still] excelled and became this wonderful vocalist, even when dealing with things like that. Not being treated fairly."
Holiday rose to fame in a time where big bands and dance bands were the prominent craze. She helped shift the attention to vocalists and packed venues with eager listeners. 
Despite becoming a famous jazz singer, Holiday frequently encountered unfair treatment and racial injustice while touring as a musician of color. There's a part in the show where Mardra Thomas as Lady Day shares a time when she toured with Artie Shaw's band in the south. While he was an acclaimed white jazz performer, because of her skin color, many times she wasn't able to use the front door, to eat inside a restaurant, or to use a public restroom.
Lady Day at Emerson's Bar and Grill is a front-row seat to legendary songs like God Bless the Child, Crazy He Calls Me, and Strange Fruit. The latter being one of the civil right era's most well known songs. Strange Fruit paints a picture of the horrors of lynching as a form of racial terrorism. The song was praised by civil rights activists and fellow African Americans while white listeners had mixed reactions. The protest anthem stirred up controversy among federal authorities who forbid Holiday to perform "Strange Fruit," she refused, causing them to consistently harass her. 
Decades later, Time designated Strange Fruit the "song of the century" in 1999.
Mardra Thomas' favorite part of playing Billie is bringing her name to light to those who may not know it, as she believes most aren't aware of the struggles she consistently encountered. While Lady Day had many challenges, the songstress had many triumphs as well. A legendary singer and a trailblazer in a time of hardship and deep rooted racism. Thomas says the production is something everyone has to hear firsthand, full of music and tender and touchy moments.
Lady Day at Emerson's Bar and Grill is playing at Metropolis Performing Arts Centre through March 12, 2022.