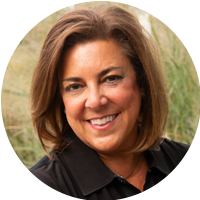 SCHAUMBURG, Ill. -- OCT. 6, 2023 – Meet Chicago Northwest (MCNW), the official convention and visitors bureau for the northwest suburbs of Chicago, has announced the hiring of  Michele Zurlo as its new Partnership and Service Manager. 
Zurlo, a longtime resident of Arlington Heights, brings over 30 years of experience in hospitality, sales and business development in Illinois, including Itasca, Lincolnshire and other surrounding suburbs. Most recently, she served as the Director of Sales for Pinstripes. In her new role, Zurlo will work closely with both the MCNW marketing and sales departments to help
coordinate convention bureau partnership events. Zurlo will also represent the bureau at local chambers of commerce events, industry conferences, local colleges, community and civic
organizations, and more.
"I've been working across the northwest suburbs throughout my career and I am looking forward to working to grow tourism to these areas," said Zurlo. "In this role, I'll be combining my passion for hospitality, sales and my love of this part of Illinois. This is sure to be a wonderful step in my career, and I can't wait to get started on the Meet Chicago Northwest team."
"We are delighted to have Michele on our Meet Chicago Northwest team," said Heather Larson, president and CEO of MCNW. "Her experience growing businesses within the hospitality
industry makes her a great fit for our team, and we're confident that she will be a great asset to our organization and we can't wait to see what Michele will accomplish."
To learn more about Meet Chicago Northwest, visit chicagonorthwest.com.
About Meet Chicago Northwest
Meet Chicago Northwest (MCNW) is a non-profit, 501c6, destination marketing organization whose mission is to promote its service area of eight communities (Arlington Heights, Elk Grove Village, Itasca, Rolling Meadows, Roselle, Schaumburg, Streamwood, Wood Dale) for meetings, convention, sporting events, group tours and leisure visits. MCNW concentrates on direct sales and marketing programs designed to promote the area in order to increase overnight hotel stays, thereby enhancing the local economy through visitor spending. MCNW is one of 37 Illinois-certified convention bureaus and the first in the state to have achieved the prestigious DMAP Accreditation through Destinations International. For more information, visit chicagonorthwest.com.
###
MEDIA CONTACT
Rachel Chick
Mekky Media Relations
847-331-5861
meetchicagonwpr@mekkymedia.com