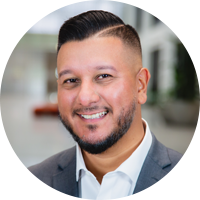 SCHAUMBURG, Ill. -- AUG. 22, 2023 – Meet Chicago Northwest (MCNW), the official convention and visitors bureau for the northwest suburbs of Chicago, has announced the hiring of Mario Farfan as its newest Account Executive.
Farfan, a U.S. Army veteran, brings over 22 years of experience in community and business development across the midwest including Milwaukee, Chicago, and surrounding suburbs. Notably, in 2015, Farfan founded the Northwest Hispanic Chamber of Commerce, focusing on business development in the Latino community across Chicago's northwest suburbs. Farfan's extensive expertise lies in building robust relationships and fostering connections within communities.
"Merging my passion for community development and business growth, I'm honored to join Meet Chicago Northwest. My journey has been defined by empowering local businesses and contributing to the community's success," said Farfan. "I'm excited to leverage this experience to drive group business to the Chicago Northwest region and foster partnerships for mutual growth."
Farfan's track record of establishing strong relationships with community leaders andassociations has been a driving force behind his accomplishments. His involvement with the US Government's Community Reinvestment Act and other business resource groups, and diversity initiatives reflects his commitment to community welfare, showcasing his extensive knowledge and connections that create a lasting impact.
"We are thrilled to welcome Mario to our Meet Chicago Northwest team," said Heather Larson, president and CEO of MCNW. "His extensive experience in community and business development aligns perfectly with our mission to drive tourism and growth within the region. We believe his expertise will be a valuable asset as we continue to expand our outreach and engagement."
To learn more about Meet Chicago Northwest, visit chicagonorthwest.com.
About Meet Chicago Northwest
Meet Chicago Northwest (MCNW) is a non-profit, 501c6, destination marketing organization whose mission is to promote its service area of eight communities (Arlington Heights, Elk Grove Village, Itasca, Rolling Meadows, Roselle, Schaumburg, Streamwood, Wood Dale) for meetings, convention, sporting events, group tours and leisure visits. MCNW concentrates on direct sales and marketing programs designed to promote the area in order to increase overnight hotel stays, thereby enhancing the local economy through visitor spending. MCNW is one of 37 Illinois-certified convention bureaus and the first in the state to have achieved the prestigious DMAP Accreditation through Destinations International. For more information, visit chicagonorthwest.com.
###
MEDIA CONTACT
RACHEL SHAYKIN
MEKKY MEDIA RELATIONS
847-331-5861
MEETCHICAGONWPR@MEKKYMEDIA.COM