IKEA Schaumburg, Bolingbrook, and Oak Creek will party like its 1998 with $1,000 gift card giveaways, food samplings, and family-friendly activities from November 4 – November 18.
Schaumburg, Ill. (November 2, 2023) – To celebrate 25 years in the Chicago market, IKEA will host three Saturdays of celebrations and savings to thank its local communities for helping make IKEA a leader in the local furniture market. It was on November 18, 1998, when IKEA opened its first location in the market, Schaumburg.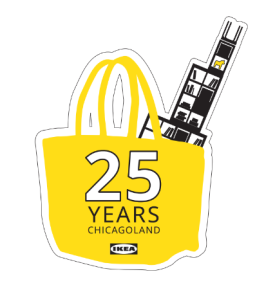 IKEA's 25th Anniversary will take place at IKEA Schaumburg, Bolingbrook, and Oak Creek, Wis. on Saturday, November 4th, 11th, and 18th. The first 250 IKEA Family members in-line will receive an IKEA swag gift each Saturday. There will also be exclusive offers throughout each week including $1,000 gift card giveaways and 25% off on over 25 items. Each weekend will feature different celebrations such as DJs, balloon artists, face painting, Swedish food samplings, register giveaways, and much more. There will also be a 90's-style takeover of the Swedish Restaurant which will include 90's trivia and "throwback" food and snacks.

"Over the past 25 years, IKEA has become a staple in the Chicagoland area," said IKEA Area Manager, Samantha Gravina. "This 25th Anniversary celebration is more than us simply offering incredible deals for our customers. It's about showing our appreciation for how Chicago has embraced our three locations and showing that we're committed to continue offering the many people a better everyday life with our home furnishings and beyond."

To learn more about IKEA's 25th Anniversary, visit www.ikea.us/Schaumburg,  www.ikea.us/Bolingbrook, or www.ikea.us/Oakcreek.
About IKEA  
At IKEA, the vision is to create a better everyday life for the many people by offering well-designed, functional and affordable, high-quality home furnishing, produced with care for people and the environment. Ingka Group (Ingka Holding B.V. and its controlled entities) is one of 12 different groups of companies that own and operate IKEA retail under franchise agreements with Inter IKEA Systems B.V. Ingka Group has three business areas: IKEA Retail, Ingka Investments and Ingka Centres. Ingka Group is a strategic partner in the IKEA franchise system, operating 389 IKEA stores in 32 countries – including 52 retail locations in the U.S. 
For more information on IKEA U.S., see IKEA-USA.com, @IKEAUSANews, @IKEAUSA or IKEAUSA on Facebook, YouTube, Instagram and Pinterest.
###
Contact:  Todd Mrowice
Office: (847) 969-9700 (ext. 1470)
Cell: 847-917-4905
todd.mrowice@ingka.ikea.com