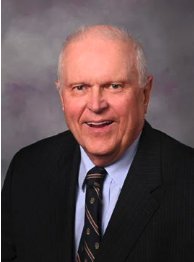 Elk Grove Village, IL (February 28, 2023) - Patton (Pat) L. Feichter, who served 27 years as an Elk Grove Village Trustee, as well as nearly seven years on the Elk Grove Village Plan Commission, has announced his retirement from public service.
"Serving as a Village Trustee for 27 years has been an absolute honor. I have genuinely enjoyed making a difference in the lives of those who live, work, and visit Elk Grove Village. I am grateful to have contributed in making the Village the exceptional community it is today," said Trustee Pat Feichter. "My wife and I have been exploring the option of moving to Florida for quite some time now, and I have decided to retire to focus on my health and family."
Prior to his tenure as Village Trustee, Pat was a long-time Political Science teacher at Maine South High School in Park Ridge, where he taught students about the U.S. Constitution. His passion for teaching led to the creation of a program supporting students competing on a state and national level in front of prestigious judges on their knowledge of issues concerning American constitutional rights.
Pat's introduction to public service began in 1989, when he was appointed a member of the Plan Commission during an extremely busy growth phase of the Village. He served on the Plan Commission for almost seven years until he was appointed Village Trustee in 1996 and went on to be elected for six consecutive 4-year terms.
"For the past 33 years of his public service career, Pat served our community in a professional and distinguished manner," said Mayor Craig Johnson. "Pat has been a steady hand on our Village Board whose knowledge and leadership will be greatly missed. We wish Pat and his wife Anne all the best as they embark on their next adventure and a well- deserved retirement."
During his tenure on the Village Board, Pat served as a member and chair of the Recycling & Waste Committee for over 13 years. He was a huge proponent in creating convenient recycling opportunities for the members of the community and spearheaded bringing the Village's Paint & Motor Oil Recycling event to fruition.
As an avid runner and cyclist, Pat served as a liaison with the Friends of Cycling in Elk Grove Village and championed the opening and extension of pedestrian use paths in the Village and neighboring areas. Most recently, Pat served as a member of the Elk Grove Village Bicycle Plan Task Force in 2021, supporting the addition of safe and efficient pathways for cyclists and creating an opportunity for new routes and cycling connectivity to the Village's bicycle network.
During his tenure, Pat was involved in several Village Board Committees. He served as Chair of the Personnel Committee, Information Committee, and Capital Improvements Committee. Pat also was a member of the Youth Committee, Judiciary Planning & Zoning Committee and the False Alarm Hearing Board.
Feichter represented Elk Grove Village on a variety of local and regional Boards and Committees.
He was involved in the Community Character Coalition for 11 years, a few of which he served as President of the coalition representing the Village. Pat provided input on several special celebration and recognition events hosted by the CCC in line with their vision to create a quality of life for the Elk Grove community supported by core ethical values and good character practices.
Pat also represented the Village as a board member of Meet Chicago Northwest, a regional destination marketing organization that represents eight surrounding communities, including Elk Grove Village, and works to attract local tourism and enhance the local economy through visitor spending.
His efforts expanded internationally as he represented Elk Grove Village in Pernik, Bulgaria. Pat was a strong supporter of the Village's Friendship City with Pernik which began in 2018. The intention of the friendship agreement is to encourage the sharing of ideas and cultural exchanges between the two communities. Pat participated in two visits to Pernik where he met with Pernik officials, attended a variety of traditional Bulgarian activities, and gained a better understanding of the educational, cultural, and economic developments ongoing in the community.
In total, Pat Feichter served with 2 Mayors, 9 Village Trustees, and 3 Village Managers. He attended 519 Village Board meetings and voted on 1,220 Village Ordinances as well as 1,574 Village Resolutions.
###
CONTACT:
Craig B. Johnson, Mayor Village of Elk Grove
901 Wellington Avenue
Elk Grove Village, IL 60007
Phone: (847) 357-4030
elkgrove.org