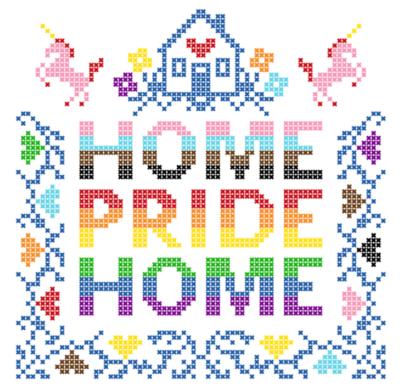 Schaumburg, IL (June 10, 2022) - IKEA Schaumburg and IKEA Bolingbrook join forces to support Chicago's LGBTQ+ Pride Fest event with sponsorship and a photo booth that invites participants to celebrate Pride and influence the world to become a place where everyone feels at home. Both stores will be encouraging customers to visit their stores or their festival booth at Chicago Pride Fest in the Northalsted neighborhood on June 18th and June 19th to snap a selfie in an IKEA black and white 2D room setting to show off their Pride colors and share via social media.
Aligned with IKEA's 2022 national campaign, the only color in the photo booth will be the participants themselves and a redesigned 'Home Pride Home' sign which has been updated to incorporate the colors of the Progress Flag and demonstrates the IKEA belief that everyone should feel at home and free to be themselves regardless of who or where they are.
"Sadly, too few LGBTQ+ people feel they can be open and honest about who they are, even to their own family. We will continue to use our influence and resources to help build a world where people of all sexual orientations and gender identities feel free to be themselves, wherever they are," says Samantha Gravina, IKEA Schaumburg Market Manager. 
"At a time when we see so much crisis in the world around us, we feel it is even more important to be led by our values. At IKEA we value the uniqueness and contribution of everyone, whatever their sexual orientation or gender identity. It's reflected in our vision and values. It's supported by everything we know about life at home," says Gravina.
###
Zach Neff
IKEA Schaumburg Loyalty Manager
Zachary.Neff@ingka.ikea.com
847-337-7891 cell
847-969-9700 work