ON THE EDGE OF O'HARE AND
IN THE MIDDLE OF EVERYTHING.
EASIER.
MORE PROFITABLE.
ENTERTAINMENT RICH.
UP TO $5,000 OFF MASTER BILL.
New Group Incentive
Book your group with a minimum of 200 total paid room nights and we'll give you $5 per room off the master bill!
Incentive Fine Print:
Meet Chicago Northwest must be copied in simultaneously/up front with the hotel, or be allowed to forward.
RFP's must be received and signed no later than June 30, 2024.
For groups with over 1,000 paid room nights, the $5 allocation will max out at $5,000.
The contract must be signed with one of Meet Chicago Northwest's partner hotels.
New business only. The organization must not have booked any group at any MCNW hotel within the past three years.
The payment will be sent to the partner hotel to be credited to the master bill after the group pick-up is determined.
Groups must materialize prior to December 31, 2025.
Promotion has no cash value.
Promotion does not impact rates or commissions.
Cannot be combined with any other Illinois CVB monetary promotion.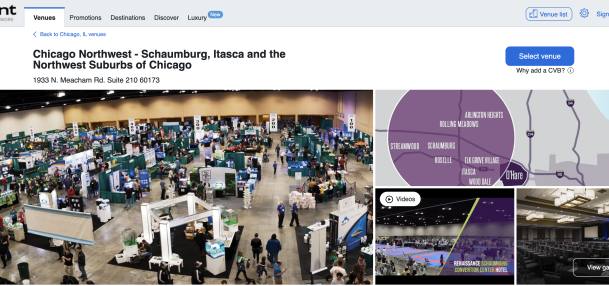 Copy us in on Cvent! Look for Chicago Northwest - Schaumburg, Itasca and the Northwest Suburbs of Chicago!
View our Cvent profile now
Your Sales Pros

Pam Hailey

Director of Sales
Market served: Fraternal - Non Greek; Diversity (Including Greek); Cultural/Heritage

Mario Farfan

Account Executive
Markets Served: Professional Association; For-Profit Trade Shows

Melinda Garritano

Senior Account Executive
Markets Served: Sports and Competitions (includes competitions of all kinds), Education, Religious, Greek

Christina Nied

Account Executive
Markets served: Corporate, Hobby, Group Tour