Welcome to Partner Spotlight!   A highlight of the diverse and talented individuals in our Chicago Northwest region's hospitality industry.
Meet Mary Sprow, Director of Sales, Topgolf Schaumburg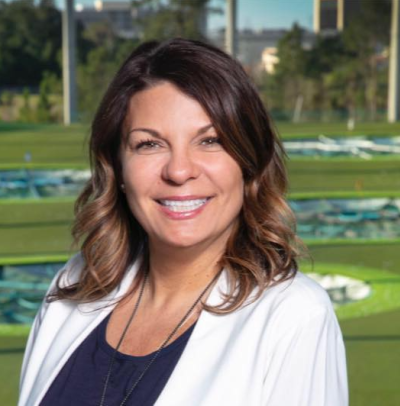 Starting her career with Topgolf in Wood Dale then moving to Naperville before landing in Schaumburg, Mary has been with Topgolf for nearly ten years.  She attributes her longevity with the company to the team culture and strong core values.  "We've supported each other through new venue openings, marriages, babies, family loss, illness, covid, furloughs." says Mary.  She goes on to say, "We love each other and find a way to laugh every day."  
She is also a certified sales coach and Director of Sales mentor for new sales directors coming into the company nationwide.  Mary holds a degree in Marketing Communications from the University of Illinois at Chicago and is a contributing writer for various industry publications including the Daily Herald Business Ledger.   
Mary has a wide variety of fun and quirky interests.  She is a member of the National Ski Patrol, helping outdoor enthusiasts stay safe year-round. In the summer, she enjoys boating and skiing with her husband.  She also works as a member of EMS Roaddocs assisting with organized motorcycle events.   That's right, Mary's preferred means of transportation is either her Harley Davidson or her BMW motorcycle.
Enjoying the quiet moments as well, Mary took up painting dragonfly mandalas on rocks while vacationing in Lake Geneva.  Always on the lookout for the perfect rock, she was delighted to discover that people actually want to buy her creations and so she opened her own Etsy store.  Her favorite highlight of 2020 was fostering four orphaned Canadian Geese.  Living on the outskirts of Wauconda, she and her husband discovered orphaned goslings near their pond.  She fed the goslings and even taught them how to forge for food and fly.  To get them acclimated to water, she bought a canoe and coaxed them into the water.  The goslings flew away for the winter but she hopes they return next year.
When asked what she would like to share with young sales professionals she offers up her sales coach mantra:  "Selling is in the mindset of the buyer. It's always about them, not you. Making meaningful connections by speaking to your buyer first about something they are interested in."  She also advises young professionals to get involved in the industry community and to listen to your industry colleagues and learn from them. 
---
Special thanks to Mary for sharing a little bit about herself! We hope you join us as we share Partner Spotlights each month.