Welcome to Partner Spotlight! A highlight of the diverse and talented individuals in our Chicago Northwest region's hospitality industry.
MEET KATY GARCIA of Riccardo's Restaurant in Schaumburg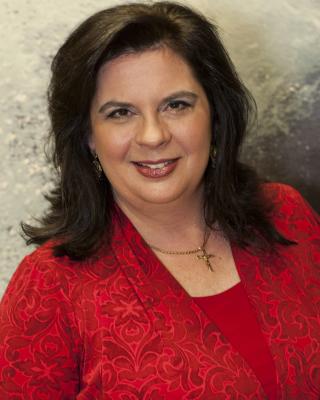 Katy Garcia moved to Hoffman Estates in the 1970's from Birmingham, Alabama. Her birth was actually announced on live TV.  Her father was the orchestra conductor for the Miss Alabama Beauty Contest.  The broadcast had been delayed as he raced to the show from the hospital.
Raised in a blended family consisting of 13 brothers and sisters over the years, from multiple marriages and divorces, her formative years created a strong drive for independence and firsthand knowledge of many different personalities and situations that encouraged her to grow as a person. She left home at 17 to be on her own.  She started her first business at19 by buying and rehabbing real estate, which at one point included a resort in the Ozarks.  Along with her boyfriend at the time, she says, "I owned seven properties by the time I was 23. I shingled roofs, hung drywall and built fences. I was usually on the paperwork side of things but did whatever I had to do to get the job done."  When the bank called the note on their resort in the Ozarks, midway through renovation, she found herself starting over, back in Chicagoland.
She went on to become a shift manager for United Express Airlines and then the training manager for their ground security.  In the immediate aftermath of 9/11, she trained gate agents to become security screeners before TSA took over this role.  This was her most rewarding work and imbued a high level of patriotism.  She was informed of possible threats to aviation and saw first hand the hard work that was being done to keep Americans safe.
In 2003, Riccardo's Ristorante went up for sale.  Katy had history with Riccardo's.  In fact, she and her husband had met at Riccardo's back in 1989.  Her husband, Waldo, had been working as the Head Chef at Verdi in Chicago but they had always wanted to own their own restaurant.  When Riccardo's became available, they jumped at the opportunity.
When Katy is not working at the restaurant, she enjoys gardening, nature, helping others and cooking.  She has a burning desire to have a blog, write a book, work with children and create a not-for-profit group to help others.  "My whole life I have worked long hours so one day I really look forward to being able to visit family more and to be able to be there for them in as many ways as I can." says Katy.
---
Special thanks to Katy for sharing a little bit about herself! We hope you join us as we share Partner Spotlights each month.