Welcome to Partner Spotlight!   A highlight of the diverse and talented individuals in our Chicago Northwest region's hospitality industry.
Meet Joe Keefe, Executive Artistic Director - Metropolis Performing Arts Centre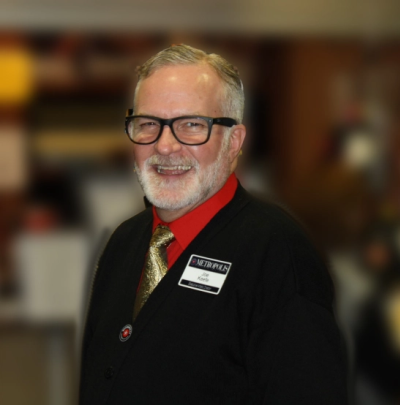 Serving as the Executive Artistic Director at the Metropolis Performing Arts Centre since 2015, Joe started his career in show business 57 years ago (no kidding). 
Growing up in Chicago and then Wilmette, Illinois, Joe was whelped from a large Irish Catholic family which kicked off his comedy career quite early.  He started in show business on the great television series Romper Room at the tender age of 5 years old. "They made me the "science kid" because I could pronounce multisyllabic words. I have a photographic memory for words so I can spell just about any word I've ever seen - which made the grade school nuns testy. I would turn in my spelling workbooks on the first day, entirely completed. They still haven't forgiven me." says Joe.
With a career filled with fascinating experiences, there are too many to offer just one favorite, so here's his short list: produced a show with Ronald Reagan as the headliner, produced the first show where Steve Carell and Stephen Colbert appeared together on stage, produced a live comedy special featuring Betty White and Peter Ustinov (who were both hilarious), nearly got in a fistfight with Dan Aykroyd, mentored Tina Fey who wrote a script so beautiful it made him cry, and more than once he has fired himself from the house band at Metropolis.  He plays a mean harmonica among other instruments.   
Joe believes, "Producing theater is so many things: a joy, an honor, a blessing, a joy (again), challenging, fun, wonderful, thrilling and incredibly satisfying. To see talented individual artists become an ensemble and then become a family and then direct their talents toward a goal of great art and then they surpass every expectation of excellence... rewarding is an understatement."
Married to Karen, a former dancer and now professional arborist, they won the Midwest Ballroom Dance Championship in the late 1970's together.  They have two sons, who Joe admits are taller, better looking and smarter than him.  He enjoys golf and spending time at his getaway in Michigan.
To the young professionals out there he advises, "If you love your vocation and take great care with it, the money will come. Nothing done for love's sake is ever wasted."
---
Special thanks to Joe for sharing a little bit about himself! We hope you join us as we share Partner Spotlights each month.