Welcome AdeptiCon! 
March 22-26, 2023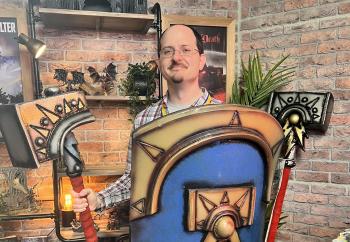 The Chicago Northwest area is excited to welcome you all back to The Renaissance Schaumburg Convention Center Hotel! AdeptiCon is the world's premier wargaming convention.  Take a look at the demos, check out the various painting competitions, shop the exhibitor hall and more.  Weekend badges will be available for sale on site at AdeptiCon.  Registration is $50.
AdeptiCon features a slate of miniatures tournaments from Games Workshop like Warhammer 40K, Age of Sigmar and Kill Team. For Star Wars lovers, Asmodee tournaments include Star Wars: Legion, Star Wars: X-Wing and Star Wars: Armada. Participants will have the chance to be first to demo Shatterpoint, a soon-to-be released Star Wars skirmish game.
In addition, attendees can check out some of the best painted models in the world – from the Golden Demon, The Worthy, Resin Beast and P3 Grandmaster painting competitions.  AdeptiCon also features popular hobby seminars, which have become widely recognized as some of the most impressive painting and modeling classes offered anywhere. The seminars feature accomplished painters, sculptors and designers from around the globe, catering to those of every level from the humble beginner to the advanced artist.  AdeptiCon provides plenty of entertainment options for the entire family with tournaments, board games, RPGs, poker, trivia and social gatherings.  
Where to eat?
Click the "NEAR ME" button below to get a sort list based on your location.